Miral
(2011)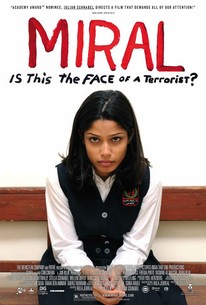 TOMATOMETER
AUDIENCE SCORE
Critic Consensus: Miscast and dramatically inert, Miral is a thin chronicle of geopolitical history that offers only shallow insight into the Israeli-Palestinian conflict and characters with even less depth.
Movie Info
From Julian Schnabel, Academy Award (C) nominated director of The Diving Bell and the Butterfly, Before Night Falls and Basquiat, comes Miral, the story of four women whose lives intertwine in the starkly human search for justice, hope and reconciliation amid a world overshadowed by conflict, rage and war. The story begins in war-torn Jerusalem in 1948 when Hind Husseini (HIAM ABBASS, The Visitor, Amreeka) opens an orphanage for refugee children that quickly becomes home to 2000 orphans. One of the children is seventeen year old Miral (FRIEDA PINTO, Slumdog Millionaire) who arrived at the orphanage 10 years earlier, following her mother's tragic death. On the cusp of the Intifada resistance, Miral is assigned to teach at a refugee camp where she falls for a fervent political activist, Hani (OMAR METWALLY, Munich, Rendition) and finds herself in a personal battle that mirrors the greater dilemma around her: to fight like those before her or follow Mama Hind's defiant belief that education will pave a road to peace. --(c) Weinstein
News & Interviews for Miral
Audience Reviews for Miral
This movie is a portrayal of what occurred to the Palestinians. I enjoyed the movie and it brought tears to my eyes.. The actors performed a moving performance that pulled on my heart strings. A film made to show what the Palestinians have had to face and still face on a daily basis. Some people may say that this movie is Pro-Palestinian that is for you to decided. Excellent film that didn't get much play in the US. 5 Stars 8-16-12
Bruce Bruce
Super Reviewer
"Miral" starts with Bertha(Vanessa Redgrave) introducing Hind Husseini(Hiam Abbass) to Edward Smith(Willem Dafoe) at the American Colony Hotel in Palestine in 1947. That introduction comes in handy decades later with Edward, now a colonel in the United States Army, being able to navigate Israeli roadblocks for Hind who now runs an orphanage. Meanwhile, Nadia(Yasmine Al Massri) looks elsewhere for shelter to escape the abuse she suffers at home and ends up in a seedy strip club before getting six months for headbutting a woman on a bus. In jail, she shares a cell with Fatima(Ruba Blal), a terrorist, who intrudoces her to her brother(Alexander Siddig) who Nadia marries on her release. And that's how Miral(Freida Pinto) enters the story... As a director, Julian Schnabel has a way of utilizing his skills as an artist to give his films a unique beauty. At the same time, he has a way of getting tripped up by politics and that could not be any truer than with "Miral." Either, he ignores them altogether when he intercuts a bombing with Polanski's "Repulsion" which is getting a little cutesy for my tastes. Or else Schnabel is as subtle as having a boulder dropped on your head. And I say that, even though I am on his side when it comes to the subject of Palestinian independence. Nor does it help in going over the familiar terrain of 40 years of history that he cannot decide who the movie should be about, Hind or Miral, as neither have much in common with each other, outside of their nationality. One place where Schnabel succeeds is in his insight that there is a difference in the attitudes of generations of Palestinians. Whereas the earlier generation may have been more accommodating, the younger generation is more willing to fight, resulting in the First Infitada.
½
4.9/10 I try to watch as many art-house films as I can; not because I'm a hipster and think that such stuff is always better than the mainstream offerings from Hollywood, but because art films are genuinely interesting, and once in a while, along comes a masterpiece. And then again, also once in a while, there comes an art film that nearly ends all art films; one that's either just-plain-bad, too controversial to swallow, or an effort from a director who had better impress his followers...or else. Julian Schnabel, the director of "The Diving Bell and the Butterfly", definitely has some seriously visionary work to follow that film up with when it comes to his newest feature. "Miral", alas, is one of those art films that doesn't nearly fit the definition of a masterpiece. In fact, it's a mess of artistic vision and melodramatic, uneven storytelling. It doesn't work in the slightest, but it is not a bad film. Bad films are annoying, and while there are PLENTY of annoyances to be found here, "Miral" has some good aspects to it to at least try and overshadow the bad ones. However, in the end, things just feel so out of place and over-stylized that you have to stop and realize that this mediocrity fest IS from the guy who also made the said film, "The Diving Bell and the Butterfly". Now THAT was a great movie; while this film is just barely half the one that the earlier film was. The film chronicles Hind Husseini's establishment of a Jerusalem orphanage, as well as the establishment of Israel. Husseini first discovers over fifty homeless children living on the streets, and she decides to take them in; feeding them, and giving them shelter. In a matter of time, which is like, no time at all, really; the fifty kids have grown to about two thousand, and this is where Husseini decides to build the orphanage for all the children. The film's titular character, Miral (Freida Pinto) is sent to the orphanage after her mother dies, and her father almost forcefully sends her off, as he cannot take care of her on his own. Miral is unaware of the problems growing in the outside world; but she evolves into a very beautiful, very intelligent, and respectful young woman. She is given a chance, finally, to realize the troubles that surround her when she is assigned to teach at a refugee camp. This is where Miral opens her eyes and sees the violence, the problems; and some of the beauty. Schnabel decides to show one side of the story being told here; the "other side". I respect his artistic vision, as I do believe he is a true artist, but this is the first film of his that I've seen in which it's sort of a win-win situation. You want beautiful cinematography, taut direction, and good leading performances; you've got 'em. And hey; just because I didn't feel anything whatsoever with this story does not mean that you won't. Obviously Schnabel obviously felt something; maybe you will too. I wanted to like "Miral". I wanted to be one to praise it in spite of all this critical panning it has received, which surprised me when I first saw the reactions of various critics, but I can't lie; I must speak the truth. I did not like the film. For every good thing, there was also a plethora of bad ones. The drama felt weak, I never really cared, and thus, I felt bored; which is strange, because I expected Schnabel to be the silent, observant type. He exercises some craft here, he gives his film an interesting look. But that just isn't enough. The film won't win much support in terms of its political themes, just as it won't have many admirers as a film overall. And it shows; I now realize why "Miral" has gotten such negative critical reception. I don't necessarily hate it, as some people seriously do, but there's not enough going on here for me to recommend it. Once again; it isn't a bad film. It's just an unfocused, nearly joyless and most certainly bland one.
Ryan Marshall
Super Reviewer
Miral Quotes
There are no approved quotes yet for this movie.