Miracle on 34th Street
(1994)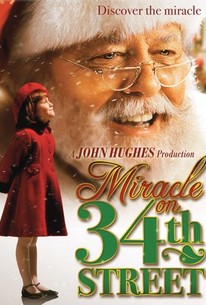 Miracle on 34th Street Photos
Movie Info
The 1947 holiday classic Miracle on 34th Street is transplanted to the 1990s with few changes in this family-oriented remake. The screenplay by the prolific John Hughes sticks close to the original outline, centering on Macy's executive Dorey Walker (Elizabeth Perkins) and her young daughter Susan (Mara Wilson), neither of whom much believes in the spirit of Christmas. Dorey is in charge of hiring Macy's Santas, including an old man named Kriss Kringle (Richard Attenborough). He does a remarkably convincing job, and he soon reveals that he actually believes himself to be Santa Claus. The authorities threaten to place the old man in an insane asylum, but a young lawyer comes to his defense. Meanwhile, Dorey and Susan find their own defenses melting and become reacquainted with the power of faith. Hughes and director Les Mayfield add a few modern touches, making Susan slightly more cynical and adding the requisite soulless corporate villains. Viewers familiar with the original may still prefer Edmund Gwenn's original Kris Kringle and consider the remake unnecessary, although the newer version reflects enough of the earlier film's spirit to prove entertaining to modern family audiences. ~ Judd Blaise, Rovi
News & Interviews for Miracle on 34th Street
Critic Reviews for Miracle on 34th Street
Audience Reviews for Miracle on 34th Street
"Miracle on 34th Street" has one of the greatest christmas tales of all time at it's fingertips, and it dazzles with humour, sadness, and too many heartfelt moments to count. This film knows what it is trying to be, and therefore, it is one of my favourite christmas films of all time. As one girl is told that santa clause does not exist, she comes into contact with a white bearded man who claims to be the real thing. When he convinces her, she asks him for a new house, a dad, and a baby brother. If she doesn't receive this, then santa clause will not be real to her. There is so much christmas spirit in this film, and every touching moment will bring a tear to your eye. The conclusion will have even adults believing in christmas again. If you have not seen this amazing holiday film, I suggest it be the next one you watch. "Miracle on 34th Street" is a miracle on it's own!
½
Uplifting and sweet but verging on twee throughout. Full review later.
Thomas Bowler
Super Reviewer
½
A pretty darn awesome remake. It may bring some extra 90's cheese, mostly due to the needlessly dramatic music, and it may be overlong in places, but this certainly works. Attenborough is the only person I could imagine taking over this role. He comes across as a genuinely kind and considerate man, with nothing but kindness in his heart. Like the original, it keeps silent as to whether he is Santa or not. The court scene is particularly funny, with a few fist pumping moments. I'd still pick the original, but if you can't sit your whole family down in front of a black and white film, this certainly doesn't offend the original.
Luke Baldock
Super Reviewer
Miracle on 34th Street Quotes
There are no approved quotes yet for this movie.