Mine Games
(2014)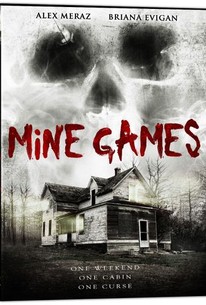 AUDIENCE SCORE
Critic Consensus: No consensus yet.
Movie Info
A group of friends travel up to a cabin located deep within the forest. Shortly after arriving, they stumble across an abandoned mine and decide to explore the dark and mysterious tunnels. As the group hikes deeper within the mine, they make a shocking discovery that quickly turns their excitement into fear. Hunted by a mysterious force, the group must work together to escape the mine alive. (c) Phase 4
Critic Reviews for Mine Games
There are no critic reviews yet for Mine Games. Keep checking Rotten Tomatoes for updates!
Audience Reviews for Mine Games
Clever title aside, this film, while certainly not without its interesting moments and themes, didn't really do much for me. This is more a sci fi-esque story than it is a horror movie, though it very obviously has some horror elements. Essentially, the idea is that there's some weird looping effect going on here, where they will go through the same thing time and time and time again unless someone is able to break the cycle by warning the others before they get to the cabin in the woods/forest. They also have to avoid one of their own, a schizophrenic no less, who's going out and murdering them for whichever reason. Talk about an easy scapegoat for a villain. Let's go after the schizo because, as we all know, those motherfuckers are dangerous, right? It plays into every mental health stereotype that is out there. If someone with a mental illness is not taking their meds, they'll end up killing someone. I have no doubt that this has happened in the past, and there's proof of it online, but it literally plays into every negative and unjustified fear people have regarding those with mental health issues. Anyone, if pushed to a certain point, can end up killing someone. If a man, or a woman, gets dumped by their significant other and they end up going on a killing spree this does not mean that everyone who goes through the same thing will end up committing the same acts. Same thing with people who suffer through these horrible diseases. It's just way too fucking lazy, honestly. Relying on the fact that people are uneducated about these illnesses in order to tell your story, that's just shit storytelling to me. At least The Voices, a really damn good movie with an excellent performance from Ryan Reynolds, while still relying on those same stereotypes, did so in order to tell a story about a character who was not living in the real world. It showed us how his mind perceived things to be completely different than what they were in real life. It was a disturbing character study. It didn't choose schizophrenia out lazy storytelling. It did so with a purpose. This movie, however, doesn't have a purpose. It's just justifying its own shitty storytelling by using schizophrenia as the driving force for the horror aspects of the film. There's no reason you couldn't have told this same story with the exception of the deaths themselves being accidental. There's absolutely no reason whatsoever, in my mind. Of course, this is the story the filmmakers wanted to tell and they have the freedom to do so, I still think the whole schizophrenia aspects of the film are poorly written. It's not like the sci fi-esque time looping is any better either. The problem lies in the fact that it literally comes out of nowhere, like there's no explanation given for what is going on. And I guess, if this were real, considering that none of these people were astrophysicists, it'd be difficult to find out exactly what the fuck happened. But this isn't real. They do hint at something in a throwaway line really fucking early in the movie and that's it, no mention of it ever again. I just think the writers did not have a good reason to explain why this was happening and they just completely sidestepped the issue instead of trying to find a solution for it. They just assumed people would go for it. And I guess, in some ways, I am over-analyzing this film. But I just wish they would've tried to justify their own story. And the thing is that this is not a bad movie, it still has more effort put into it than a lot of these really low-budget horror films, but not nearly enough of it for me to look past its glaring flaws. I do think the ending itself was very good and parts of the film were pretty cool all things considered. At best this is a below average film. It has some cool ideas and all, but it's got some really fucking lazy storytelling that keeps it from being truly good. I cannot recommend this in the slightest.
Jesse Ortega
Super Reviewer
Mine Games Quotes
There are no approved quotes yet for this movie.