The Million Dollar Hotel
(2000)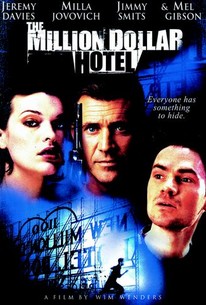 TOMATOMETER
AUDIENCE SCORE
Critic Consensus: Critics say the weirdness of The Million Dollar Hotel is more grating and pretentious than interesting. Also, it takes too long to get to the conclusion.
The Million Dollar Hotel Photos
Movie Info
Set in 2001, a group of misfits live in a flea-bitten, skid-row hotel known as 'The Million Dollar Hotel'. Its residents become the center of attention when a junky named Izzy is found murdered. As it turns out, he is the son of a wealthy and powerful media magnate. The residents of the hotel soon become the prime suspects. A badgering detective is then on the case to try and solve the murder. Or was it a suicide?
Critic Reviews for The Million Dollar Hotel
Audience Reviews for The Million Dollar Hotel
½
Not many people I have spoken to have seen this film but as a Jeremy Davies fan (whom I discovered a love for first in his portrayal of Charles Manson in Helter Skelter and then by accident as Topper in the darkly deviant black comedy Ravenous) I would have to say that it is one of the most haunting and heartbreaking movies I have ever seen. Although Mel Gibson's presence seems a little odd, as you keep expecting him to pull out a gun and start shooting (as he does on one occasion) I felt his portrayal as a physically deformed polic officer investigating the suicide of a man in the hotel believable. With a perfect narrative from Davies and a strong, all be it odd, cast of characters behind him, this movie is one of my favorites and is one I am happy not many people have seen.
Unknown Hobo
Super Reviewer
The film version of a literary style known as Magical Realism It's a screwball tragedy, a term made up by someone else to describe this film. There are no others of this type. It's a love story without "They lived happily ever after"; it's a mystery (the essence of real) in a subtly surreal world. Not only is the story unique, but so are most of the characters, which seems to be a problem for some viewers. I don't want to paint this movie as too weird, but its differences are some of the best things about it. Cinematography is classic, sharp, lots of deep focus. Exteriors, interiors, non-traditional lighting, a dawn scene shot before the magic hour, it all looks great. I can't recall a scene with foreground in focus while background is out, or vice versa. U2 contributed a tune or two to the soundtrack, as they have for all Wim Wenders films since the 80s. The rest of the soundtrack is jazzy. It supports the film beautifully, and is available on CD. If you've liked any of Wim Wenders films, I think you'll love this one.
MisterYoda ?
Super Reviewer
Very off beat. It was fun, and even though I hate Jeremy Davies, the rest of the cast checked out.
Curtis Lilly
Super Reviewer
The Million Dollar Hotel Quotes
There are no approved quotes yet for this movie.