A Mighty Wind
(2003)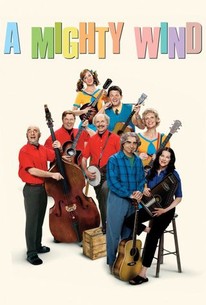 Movie Info
The writing and directing team who created Waiting for Guffman and Best in Show turn their satiric eye toward the world of folk music in this sly mockumentary. Irving Steinbloom was one of the great behind-the-scenes figures of the folk music boom of the late '50s and early '60s, and helped to nurture the careers of three of the best known acts of the era. The Folksmen -- Mark Shubb (Harry Shearer), Alan Barrows (Christopher Guest), and Jerry Palter (Michael McKean) -- were an earnest folk trio who sang of America's noble past and the challenges of the future; they split up in the early '70s after a failed attempt to go electric. Mitch & Mickey were a duo in both music and life, comprised of Mitch Cohen (Eugene Levy) and Mickey Devlin (Catherine O'Hara). They sang soulful songs of love until the collapse of their relationship sent Mitch into a deep and incapacitating depression. And The Main Street Singers were a nine-piece vocal group -- a "neuftet," as they prefer it -- who offered energetic good-time music, cranking out nearly 30 albums in the course of a decade; their current incarnation, The New Main Street Singers (played by Jane Lynch, Parker Posey, John Michael Higgins, David Alan Blasucci, Steve Pandis, Christopher Moynihan, Paul Dooley and Patrick Sauber) is still on the road. When it is announced that the legendary Irving Steinbloom has died (the character never appears in the film), his son Jonathan (Bob Balaban) decides that the best way to memorialize his father is through music, and with the help of Mike LaFontaine (Fred Willard) of Hi-Class Management, they set out to bring The Folksmen, Mitch & Mickey, and The New Main Street Singers back together for a special concert at New York's Town Hall. Christopher Guest, Michael McKean, and Harry Shearer -- who previously teamed up for This Is Spinal Tap -- not only perform together as The Folksmen in A Mighty Wind, but composed most of the songs performed onscreen. ~ Mark Deming, Rovi
News & Interviews for A Mighty Wind
Critic Reviews for A Mighty Wind
Audience Reviews for A Mighty Wind
½
The impression we have here is that Guest is less interested in making fun of people and their curious idiosyncrasies with his usual satirical bite, making a film that is sweeter and more heartfelt than Waiting for Guffman and Best in Show but also a bit less funny, too.
Carlos Magalhães
Super Reviewer
½
Full confession alert: I'm not the biggest Christopher Guest fan; however, A Mighty Wind is maturely directed, heartfelt, and keenly observed. I never thought I would be genuinely touched by a Guest film, but that's why we watch movies, right?
Jonathan Hutchings
Super Reviewer
Whenever I want to watch something light and comedic I either watch a Woody Allen or one of Christopher Guests' mockumentaries. This film is lacking compared to the over the top ensemble Waiting for Guffman and the polarizing Best in Show, but what it doesn't hold in a secure and structured plot it makes up for in heart and gumption. I agree that when it tries to be subtle it's not well understood and when it tries to be obvious it's a bit in your face, but overall I found this to still to have a quiet charm about it. Guest always satirizes the easy targets: dog shows, local theater, and retired rock bands. Anywhere where eccentric characters thrive he mines for the laughs, usually easy with his usual cast of characters. Guest always uses his old stand-bys of Eugene Levy (who co-writes the scripts with Guest), Catherine O'Hara, Harry Shearer, and Michael McKean. He also utilizes youthful character actors John Michael Higgins, Parker Posey, Jane Lynch (an unknown in both this and Best in Show), and Bob Balaban. Every one of these films works exactly the same: a group of characters with misshaped values work to find fame and love from the crowd, either don't succeed or thoroughly embarrass themselves, and we flash to a short amount of time later to see the depths to which they have fallen. Most of this film is solely the folk music, the characters playing their instruments, and the oncoming concert. Through the interviews we learn strange details about these people including the involvement in a cult, a past in pornography, homelessness, and transgendered choices. The sub-plot over Mitch and Mickey was probably one of the sweeter things I've seen in film in a long time. Really, a delightful ensemble.
Spencer S.
Super Reviewer
A Mighty Wind Quotes
There are no approved quotes yet for this movie.