MI-5 (Spooks: The Greater Good)
(2015)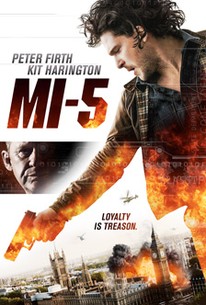 TOMATOMETER
AUDIENCE SCORE
Critic Consensus: MI-5 (Spooks: The Greater Good) is a stylish, albeit rather perfunctory, adaptation of a spy thriller perhaps best left on the small screen.
MI-5 (Spooks: The Greater Good) Photos
Movie Info
When charismatic terrorist Adam Qasim escapes from MI5 custody during a routine handover, the legendary Harry Pearce, Head of Counter-terrorism, is blamed. Disgraced and forced to resign, no-one is surprised when Harry disappears one night off a bridge into the Thames...With MI5 on its knees in the wake of the Qasim debacle and facing controversial reform, former agent Will Crombie is brought back to uncover the truth they feared - Harry's still alive. He's gone rogue, and needs Will's help. As Qasim prepares his devastating attack on the heart of MI5 in London, Will must decide whether to turn Harry in - or risk everything by trusting the damaged, dangerous master spy who has already betrayed him once before...
News & Interviews for MI-5 (Spooks: The Greater Good)
Critic Reviews for MI-5 (Spooks: The Greater Good)
Audience Reviews for MI-5 (Spooks: The Greater Good)
As most movies based on television series goes, MI-5 is probably better fitted for viewers of the series. I've never seen an episode of MI-5, but I've seen my fair share of spy-action-thrillers, and this one is about as middle of the road as you can get. There isn't anything special about this movie, but there's also nothing blatantly wrong with it either. Set a few years after the end of the series' run, MI-5 picks up as Harry Pearce (Peter Firth) is still the head of section D at MI-5. But when he realizes that someone inside of his team has aided a wanted international terrorist in his escape and he himself is suspected, he decides to take matters into his own hands and recruits one of his former guys, Kit Harrington into proving his innocence. Again, there's nothing really here that's all that original, but if you're looking for a fun little action film to take your mind away from normal life, MI-5 might be one for you. Harrington his very likable, as he always has been. His character here is pretty much Jon Snow in the modern world, but his talent is undeniable. This is especially clear when he's alongside costar, Peter Firth playing Harry, because that's not a particularly likable character. In fact, for most of the film I found myself rooting against him. Which brings up my major issue with the film, the endless plot twists and double crosses. There comes a point in the film when there's been so many different plot changes and reveals that the story becomes irrelevant. The film becomes to reliant on keeping you guessing the next turn, that it forgets to tell its own story. It's nice to see Kit Harrington get a starring role, and even see David Harewood in a feature film, but there's not a whole lot separating this film from anything else we have seen. Perhaps a bigger budget, more rounded villain, and a less convoluted script would make for a better viewing experience. 6.2/10
Thomas Drufke
Super Reviewer
A mindless feature length of the great TV series. If you are looking for a less stylish Bond or Mission Impossible blow up then this is the film for you!
Film Crazy
Super Reviewer
Based on the British television series Spooks, MI-5 is an action-packed espionage thriller. When a terrorist escapes while being transferred, counter-terrorist chief Harry Pearce suspects that there's a trader inside MI-5 and goes rogue in order to find them out, and with no one to trust he's forced to seek the help of a burned spy. The politics are kind of hard to follow between MI-5 and the CIA, but the basics boil down to a standard mole hunt. Kit Harington gives a strong performance and the storytelling does a good job at creating suspense and mystery, along with delivering some interesting twists. Entertaining and full of thrills, MI-5 is an exciting action film.
Dann Michalski
Super Reviewer
MI-5 (Spooks: The Greater Good) Quotes
There are no approved quotes yet for this movie.