Metallica Through the Never
(2013)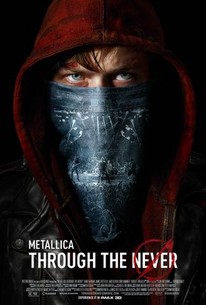 TOMATOMETER
AUDIENCE SCORE
Critic Consensus: Imaginatively shot and edited, Metallica Through the Never is an electrifying, immersive concert film, though its fictional sequences are slightly less assured.
Metallica Through the Never Photos
Movie Info
Award-winning filmmaker Nimród Antal (Predators, Kontroll) creates a groundbreaking 3-D motion picture event, Metallica Through the Never. The music-driven feature film combines a bold narrative and spectacular live-performance footage of one of the most popular and influential rock bands in history to produce a bracing, raw andvisceral cinematic experience. Emerging young star Dane DeHaan (The Place Beyond the Pines, Kill Your Darlings, The Amazing Spider-Man 2) portrays Trip, a young roadie sent on an urgent mission during Metallica's roaring live set in front of a sold-out arena. (c) Picturehouse
News & Interviews for Metallica Through the Never
Critic Reviews for Metallica Through the Never
Audience Reviews for Metallica Through the Never
An over-the-top though very entertaining concert Metallica concert brought to life through the eyes of a stage crew member (Dane DeHaan) who begins to not be able to tell what reality is anymore, thus suffering apocalyptic hallucinations that threaten to spill over into the show. Admittedly, I am a huge, huge Metallica fan, so the concert itself is pretty great. However, the subplot involving DeHaan fails pretty hard, to the point where it is just utter nonsense. Still, when the focus is on the show and the visuals Metallica puts on display, it is impressive and enamoring. In the end, it feels unbalanced and confused as to what it wants to be, and the result is a mixed bag.
Dan Schultz
Super Reviewer
½
A roadie goes on a mysterious errand during a Metallica concert. The parallel narrative successfully breaks up the tedium of pure concert footage, but it's basically just a 90 minute music video that will be a must-see for fans of the band and of little interest to others. To me, every Metallica song sounds like a man furiously yelling at his malfunctioning washing machine.
Awesome, brilliant concert by Metallica, Through the Never is what a music film should be. Featuring an intense live performance by Metallica, this is a highly engaging and very unique film experience. Even if you're not familiar with the band's music, or are a fan of the band itself, Through The Never is a surreal experience one that has the power to divide its audience. With a blistering heavy metal soundtrack that sets the pace for this concert, Through The Never is a must see experience for metal fans and rock fans alike. Nowadays, I must confess that my opinion on Metallica has been varied. I really enjoyed Death Magnetic, but hated their collaboration with Lou Reed; nonetheless, they always seem to redeem themselves. Through The Never is that redemption. This will surely appeal to the fans of the band, and Metallica plays several classics here. There is a subplot of a roadie on the search of a satchel for the band, but is never fully elaborated upon. But it doesn't matter, the band performs well, and delivers a hard hitting set, and you couldn't ask for a better concert film. The visuals are great as well, and the film is a truly unique experience from start to finish. For any fan of this music style, this is a must see. For me, as a metalhead, Through The New is an accomplished film that definitely exceeded my expectations. When I originally heard about this film, I didn't know what to expect, but director Nimrod Antal has made the finest film of his career, and quite possibly the finest concert film in many years, at least since Iron Maiden's Flight 666.
Metallica Through the Never Quotes
There are no approved quotes yet for this movie.