The Messenger: The Story of Joan of Arc
(1999)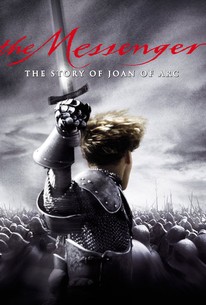 The Messenger: The Story of Joan of Arc Videos
The Messenger: The Story of Joan of Arc Photos
Movie Info
In 1429, a teenage girl from a remote village stood before the world and announced she would defeat the world's greatest army and liberate her country. In began as a small voice in the heart of a simple girl... but the voice grew stronger, rulers were drawn to listen, armies were empowered to fight and her countrymen were inspired to believe.
Critic Reviews for The Messenger: The Story of Joan of Arc
Audience Reviews for The Messenger: The Story of Joan of Arc
Luc Besson's The Messenger is a fairly underrated dramatic action film about Joan of Arc. Although not perfect, I found this one to be much better than what most critics have said about it. The film packs action and those scenes are very well done, but in terms of effective storytelling, I felt that the performances were decent, but what really stood out were the battle scenes. In terms of story, this does a good job at telling Joan of Arc's story, but it is not accurate either. The film has the potential of sparking interest in the subject. Milla Jovovich does what she can and she gives a fairly good performance here, but the film overall will never stand out in terms of an epic. In retrospect, there are far better films than this, but The Messenger is still mindless popcorn fair that is fun from start to finish. Of course there are things that seem out of place, but overall, it's definitely not as bad as what I'd think it would be. There are things that could have been improved upon considering its subject, but in the end, it's a fairly accomplished movie that manages to be quite good despite its flaws. If you're going into this film expecting something historically accurate, then you'll be disappointed. Director Luc Besson obviously takes creative liberties with Joan of Arc's story. Go into this one expecting a mindless action drama with an interesting plot, but it is never anything great either. I enjoyed it, but felt it should have been much better. The story had the potential of being truly memorable, and with that being said, The Messenger is good, but the definitive Joan of Arc film has yet to be made.
When Joan walks into the royal court for the first time to plead her cause, to free France of English poachers, they are already whispering about the peasant girl some claim as a saint. Except for not seeing how she came to be whispered about I really enjoyed Besson's tale (pro-French and anti-Catholic) that underlines how any act of faith is ultimately a dance with self doubt. It may is may not be of importance that Besson and Jovovich were divorcing as this filmed, so you decide.
Kevin M. Williams
Super Reviewer
½
Luc Besson's mad tale is more of a visual experience than a story.
Tim Salmons
Super Reviewer
The Messenger: The Story of Joan of Arc Quotes
There are no approved quotes yet for this movie.