Meshes of the Afternoon
(1943)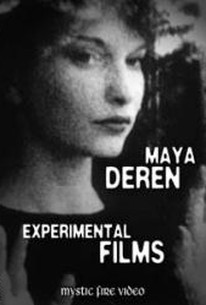 AUDIENCE SCORE
Critic Consensus: No consensus yet.
Movie Info
One of the most important and influential experimental films of the 20th century, Maya Deren's 18-minute feminist classic explores the interior images of a woman (played by Deren) whose daydreams restore mystery and danger to the ordinary objects of her everyday life. Deren veers away from plot to advance her view that a film should be like a poem: a deep tissue of images designed to examine a mood or startle us with the strangeness of the things around us. Using film as an artistic medium rather than as a vehicle for stars or story or action, Deren looks back toward the earlier European avant-garde of such filmmakers as Germaine Dulac, who believed that film most resembled the abstract yet emotional form of music. Deren's investigation of one woman's subconscious experience explicitly rejects the linear form of theater and literature in favor of the non-narrative models offered by painting, music, sculpture, or poetry. This alternative view of film as a non-narrative artform was incalculably influential on future filmmakers, and in 1990 Meshes was named to the Library of Congress's National Film Registry.
Cast
Critic Reviews for Meshes of the Afternoon
All Critics (3) | Top Critics (1) | Fresh (3) | Rotten (0)
Deren is one of the great screen presences; with her billowing hair and lugubrious gaze, she incarnates the eternal bohemian, rendering morbidity alluring and turning the air of idealistic purpose into a dance of seduction.
April 22, 2013
Decades later, this avant-garde, experimental film holds up extremely well
Maya Deren from 1943 until her death in 1961 led the avant-garde movement in cinema.
Audience Reviews for Meshes of the Afternoon
½
A woman sees a figure walking around a corner on a garden path, fumbles her key when trying to enter her apartment, sees a knife fall out of the loaf of bread it was lodged in, and then goes upstairs and takes a nap; she has a series of recurring dreams where these incidents and objects repeat themselves in new combinations, building up to a nightmarish conclusion. This mysterious and poetic riddle without a solution becomes more fascinating with each subsequent viewing.
If you're into David Lynch, this will be right up your alley.
Ken Stachnik
Super Reviewer
This is pretty good for an experimental film, but I still didn't like it.
Meshes of the Afternoon Quotes
There are no approved quotes yet for this movie.