Menace II Society
(1993)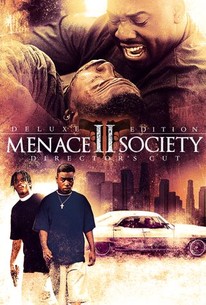 TOMATOMETER
AUDIENCE SCORE
Critic Consensus: Told with grit and verve by the Hughes brothers in their feature debut, Menace II Society is a gangland epic that breathes with authenticity while steeped in style.
Movie Info
This debut offering from twin brothers Albert and Allen Hughes was one of the most critically-acclaimed urban crime films to appear in the wake of John Singleton's influential Boyz N the Hood. Set in the Watts neighborhood of Los Angeles, the film is narrated by 18-year-old Caine (Tyrin Turner), a drug dealer and car thief who lives with his religious grandparents. After graduating from high school, Caine shows no ambition beyond hanging out with his friends, so his grandparents kick him out. Among his other troubles are his best friend O-Dog (Larenz Tate), a vicious thug hunted by the police, and the friends and family of the girl Caine got pregnant and then turned his back on. Perhaps the lone positive influence in his sphere is Ronnie (Jada Pinkett), a single parent struggling to raise her young son without the boy falling prey to the 'hood mentality. When their friendship becomes a love affair, Ronnie tries desperately to convince Caine to move with her to Atlanta; soon afterward, he is shot and nearly dies. After recovering, he accepts Ronnie's offer, but tragedy strikes as they pack their van in preparation to leave. ~ Jason Ankeny, Rovi
News & Interviews for Menace II Society
Critic Reviews for Menace II Society
Audience Reviews for Menace II Society
½
Back in my days of school I heard of this film but knew nothing of it. It was commonly known as a 90's video nasty and was the talk of the town alongside other similar gangster films. The difference with these films over other horror video nasties was this genre was realistic and possibly influential to us kids, or so the grown ups said. The film itself isn't exactly anything amazing really, just days in the life of some young street hoods as they commit crimes and generally arse about. What makes it so strong is the fact its so well made with amazingly good direction and gritty visuals you'd think an experienced directed was behind it. So the fact this is a directional debut from the Hughes brothers is really quite impressive, the fact they managed to gather a damn good cast is also impressive. From Sam Jackson and Larenz Tate to Charles Dutton and Bill Duke, add to that many familiar character actors such as Clifton Collins in a minor role. Of course the reason behind the films infamous rap is the brutal graphic violence and the fact the word 'fudge' is used about a billion times. I thought 'Robocop' was hard ass, this takes the biscuit! but what makes this so harsh is the fact its based on reality and probably many truths and stories. Whether or not it serves to inform youngsters about the wrong roads in life I don't know, I'm sure it will and does still shock but one could also say it may influence or possibly give certain youngsters bad ideas. This is a huge debate and solely depends on the individual naturally, some will enjoy for the wrong reasons other won't, but the Hughes brothers deserve credit for exposing the cold facts that I'm sure many are sheltered from. To be honest I can see what the brothers are doing here but at the same time I can't help but feel they are also putting young blacks in a very bad light and not helping how other people look at them. One also can't help but feel the heavy use of racial language and much black v white propaganda also fuels the fire somewhat, but I'm looking at this from a British perspective. Dated now of course but still able to shock with its explosive sequences. Much like the Wild West this film shows how cheap life can be (or still is) within certain areas of the US, but many countries have similar issues. Scarily realistic performances from the cast (kinda makes you wonder if they have their own experiences), powerful moments of madness and all made very well without glorifying the story by making the lead character a hero. A story of self destruction that could easily of been avoided exposing the pity and futileness of these youngsters lives. Oh and Sam Jackson is much more terrifying and badass in this than 'Pulp Fiction', even for a five minute cameo!.
Phil Hubbs
Super Reviewer
½
This is the truth. This is what's real. Great strong movie! Menace To Society is as hard hitting powerful as any film about the Hood is ever going to be. The opening scene was so well done I was blown away and loved it so much I would have been satisfied if that was the film even before the first 4 minutes were up and from there you are taken into this roller coater of horrific violence and Hood life. The great thing about the movie is that it shows the truth about how hard it is for some black kids growing up in a world filled with racism and crime.It also shows that some people,like "O-dog" in the movie has forgotten all about the ethics and rules in life. This urban nightmare chronicles several days in the life of Caine Lawson, following his high-school graduation, as he attempts to escape his violent existence in the projects of Watts, CA.
½
"yea, ima git a double burger... and some fries.." "ay, ay, nigga what da fuck i say? wit cheese, mutha fucka, wit cheese!"
Coxxie Mild Sauce
Super Reviewer
Menace II Society Quotes
There are no approved quotes yet for this movie.