The Men Who Stare at Goats
(2009)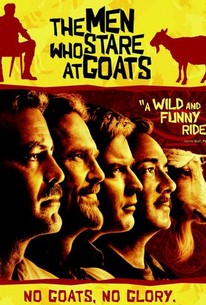 TOMATOMETER
AUDIENCE SCORE
Critic Consensus: Though The Men Who Stare at Goats is a mostly entertaining, farcical glimpse of men at war, some may find its satire and dark humor less than edgy.
The Men Who Stare at Goats Photos
Movie Info
Reporter Bob Wilton is in search of his next big story when he encounters Lyn Cassady, a shadowy figure who claims to be part of an experimental U.S. military unit. According to Cassady, the New Earth Army is changing the way wars are fought. A legion of "Warrior Monks" with unparalleled psychic powers can read the enemy's thoughts, pass through solid walls, and even kill a goat simply by staring at it. Now, the program's founder, Bill Django, has gone missing and Cassady's mission is to find him.
News & Interviews for The Men Who Stare at Goats
Critic Reviews for The Men Who Stare at Goats
Audience Reviews for The Men Who Stare at Goats
A mildly funny satire that seems to borrow from the Coen brothers' humor and has some very fine and vigorous performances, but after halfway through it starts to lose its comedic charm and ends with a disappointing, quick and easy wrap-up.
Carlos Magalhães
Super Reviewer
Supposedly based on a true story, this is just a load of rubbish. Would have been better making something up that was actually good.
Stuart Brooks
Super Reviewer
Grant Heslov is mainly known for his producing and writing collaborations on some of George Clooney film's. However, on this occasion he takes the directorial reigns leaving me wondering what might have come of this film had someone with more experience been behind the camera. In the 1980's, reporter Bob Wilton (McGregor) stumbles onto the story of the 'New Earth Army', a bold, experimental unit formed by the U.S. It's purpose is to train so-called 'Jedi' warriors to use paranormal powers, including mind control, for the use in battle and to help in the interrogation of prisoners at Guantanamo Bay. Then he meets one of the unitâ(TM)s major players Lyn Cassady (Clooney), now supposedly retired, and tags along for a series of misadventures in Iraq. Amazingly, this is based on a true story and with this prior knowledge and superior cast, you'd expect something quite special. Sadly, it doesn't provide it. It starts off, looking very good indeed but after the half hour mark I started drifting when the realisation came, that it wasn't going anywhere. The cast are excellent as you'd expect; Clooney, once again shows nice comic touches and expressions, Spacey is under-used but still manages scene stealing moments and Bridges is absolutely brilliant as the spaced out, hippie commander Bill Django - which is a little reminder of his iconic portrayal of "The Dude" from "The Big Lebowski". McGregor also does well, amongst these heavy hitters and has nearly developed a decent American accent. It's just a shame that their performances were not helped with something that resembled a script. To be fair though, there are still some nice comedy moments and there are many interesting components to the story but it lacks drive. Maybe it's because the assembled cast is so impressive that more is expected. Or maybe, it's because it's in the hands of a novice director - punching above his weight. Either way, it disappoints. This is a film that the likes of the Coen brothers could have taken to great heights. It has a similar sense for the brothers' off-beat humour but lacks their creativity. A passable comedy, that amuses sporadically but relies too heavily on it four performers. It's them that maintain your interest but the material should have been delivered with more confidence.
Mark Walker
Super Reviewer
The Men Who Stare at Goats Quotes
There are no approved quotes yet for this movie.