Men in Black II
(2002)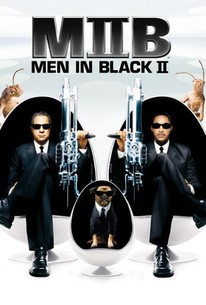 Movie Info
Otherworldly villains are on the loose again, and it's up to Earth's interstellar police force to bring them to justice in this sequel to the sci-fi comedy blockbuster Men in Black. Agent Jay (Will Smith) has become a high-ranking member of the Men in Black, the secret government task force designed to deal with unruly visitors from other worlds, while his former cohort, Agent Kay (Tommy Lee Jones), had his memory wiped clean and now lives a simple but contented life as a mailman. However, an especially nasty alien threat has reared its not-so-ugly head; Serleena (Lara Flynn Boyle) is a shape-shifting Kylothian alien who is in pursuit of another escaped visitor who holds the key to powers that would allow her to destroy the world. Making Serleena all the more dangerous is the fact she's taken on the appearance of a lingerie model, making her irresistible to most men. When the rampaging Serleena takes control of the MIB offices, Jay is forced to turn to the only man who can help him save the world -- the former Agent Kay. After restoring Kay's memory, the two remaining Men in Black set out to conquer Serleena with a motley band of friendly aliens, including a handful of worm creatures and a talking dog named Frank (voice of Tim Blaney). Jay, meanwhile, has his head turned by Laura (Rosario Dawson), an attractive waitress who was an unwitting witness to an alien attack. Men in Black 2 also features Rip Torn, Tony Shalhoub, David Cross, Patrick Warburton, and Johnny Knoxville. ~ Mark Deming, Rovi
News & Interviews for Men in Black II
Critic Reviews for Men in Black II
Audience Reviews for Men in Black II
Tommy Lee Jones & Will Smith give great performances, but it is not enough to grasp the attention of its audience as it fails to garner the touch from its predecessor. Men in Black II lacks the originality and goes excessively in too deep on its already familiar settlement. 2/5
Eugene Bernabe
Super Reviewer
½
Once again aliens with a malevolent agenda are running loose on Earth, and the only hope for stopping them lies in the hands of the Men in Black in this sequel to the 1997 hit. Yeah, the effects are once again top notch, and the performances from Smith and Jones ultimately save things, but overall, this sequel is a real disappointment. For one thing, it just feels really uninspired, and doesn't have the level of engagement as the first one. It's also rather lazy, extremely hit and miss with the humor (mostly miss), and criminally short where the run time is concerned. Sure, it does have it's moments, and it's not a bore when it comes to entertainment, but nothing is really done to make the audience really care. This film easily comes off as a typical sequel summer cash in event, and that's a shame. It's really too bad they didn't take more time to craft something worthwhile instead of ending up with some quite lackluster and dull.
Chris Weber
Super Reviewer
'Men in Black II' feels a lot less original compared to its original. This could have been a new, clever chapter for both Kay and Jay. Instead, it feels like the original story, but its lost its punch and humor.
Samuel Riley
Super Reviewer
Men in Black II Quotes
There are no approved quotes yet for this movie.