Men in Black
(1997)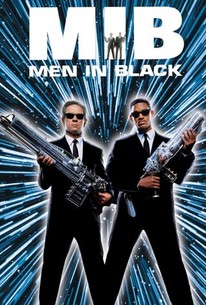 TOMATOMETER
AUDIENCE SCORE
Critic Consensus: Thanks to a smart script, spectacular set pieces, and charismatic performances from its leads, Men in Black is an entirely satisfying summer blockbuster hit.
Movie Info
For his fifth effort as a feature-film director, one-time cinematographer Barry Sonnenfeld brought his cartoonish visual style and darkly humorous sensibilities to this adaptation of, appropriately enough, a tongue-in-cheek sci-fi comic book. Will Smith stars as James Darrel Edwards, a New York City cop with an athletic physique and a flippant, anti-authoritarian attitude toward law enforcement. After chasing down a mysterious perpetrator one night who turns out to be an alien, James is recruited by "K" (Tommy Lee Jones), a veteran of a clandestine government agency secretly policing the comings and goings of aliens on planet Earth. Nicknamed the "men in black" for their nondescript uniform of black suit, shoes, tie, and sunglasses, the agents are assigned to recover a bauble that's been stolen by an intergalactic terrorist (Vincent D'Onofrio). It seems the item is none other than the galaxy itself, and its theft has plunged humanity into the center of what's shaping up to become an interstellar war, unless K and his new wisecracking partner, now renamed "J," can stop the bad guy. On their side but somewhat in the dark is a pretty, unflappable city medical examiner (Linda Fiorentino) who has been zapped one too many times by K's ingenious memory-sapping device. Men in Black was a box office smash, inspiring an animated children's television series and a hit soundtrack album that featured a performance by star (and rapper) Smith. ~ Karl Williams, Rovi
News & Interviews for Men in Black
Critic Reviews for Men in Black
Audience Reviews for Men in Black
J: You know the difference between you and me? I make this look good. "Protecting The Earth From The Scum Of The Universe" I've seen bits and pieces of Men in Black over the years, but I had never actually watched it from start to finish. Now that I have, I see why it's such a beloved movie. This is just a great, fun, and hilarious ride. Tommy Lee Jones and Will Smith are great on screen together and have terrific chemistry, while being polar opposites. The Men in Black are a secret agency that protects earth from the bad aliens and keeps an eye on the many good aliens that live among us. K(Tommy Lee Jones) recruits new member, J(Will Smith) into the agency from his job as a police officer. Within the first 24 hours of being on the job, J finds out that he and K are going to have to save the world from Alien attack.  There's a reason Men in Black is given so much praise; because it deserves it. This film weaves alien celebrities, death rays, end of the world possibilities, talking dogs, and a great Vincent D'Onofrio role into a movie that manages to be funny, entertaining, silly, and altogether one of the most fun film experiences you are likely to ever have. That's not to say this is one of the greatest movies of all-time or anything like that. What it is though, is a worthwhile sci-fi comedy with terrific direction from Barry Sonnenfeld and wonderful performances from Tommy Lee Jones and Will Smith. This is a can't miss.
Melvin White
Super Reviewer
½
The film's sci-fi presentation, clever story and leading duo (Jones & Smith) provides for a surge of entertainment that exceeds anyone's expectations. Men in Black is that summer blockbuster that satisfies throughout its entirety. 4.5/5
Eugene Bernabe
Super Reviewer
½
Ace cinematographer turned director Barry Sonnenfeld is known for having a cartoonish style and darkly humorous sensibilities, and these qualities served him very well with this adaptation of a tongue-in-cheek sci--fi comic book series. This witty, stylish, and insanely clever film follows a tough and uber hip New York cop named James Edwards who, after a bizarre encounter with a suspect, discovers that not only do aliens exist, but there is a top secret government agency known as the Men In Black designed to monitor and deal with their presence on Earth. Shedding his old life and identity, James joins the organization, taking up the name Agent J, and, along with a no-nonsense codger of a partner named Agent K, work to stop an assassination plot that could lead to interstellar war. As mentioned above, this is a really clever film. It's funny, sharp, and gets in some nice satire, and makes for a nice blend of comedy and sci-fi intrigue. I knew this was funny as a kid, but it wasn't until later that I realized how much of the humor went over my head, kinda like my experience with Ghostbusters. Sonnenfeld's style is perfect for this kind of thing, and I love the world created here. Will Smith delivers a fine performance as Agent J, and he has wonderful chemistry with Tommy Lee Jones as Agent K. Rip Torn is a delight as MIB boss Zed, Linda Fiorentino is good as a mortician caught up in the madness, and Vincent D'Onofrio is great as the primary antagonist who tries to hide its real identity using the hollowed out skin of a farmer. The film is heavy on effects, and, while they are great, they thankfully don't overshadow things, and actually complement the story. The action and set pieces are decent too, but for me, the best part of the film is the writing, performances, concept, and sharp satirical humor. Definitely give this one a look. It's easily a highlight of late 90s cinema.
Chris Weber
Super Reviewer
Men in Black Quotes
There are no approved quotes yet for this movie.