Memoirs of an Invisible Man
(1992)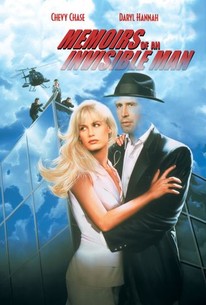 Memoirs of an Invisible Man Photos
Movie Info
Chevy Chase stars, though not always visibly, as Nick Halloway, a low-level businessman with an acerbic approach to life and work, whose humdrum existence utterly bores him. Nick gets an unexpected jolt of excitement when, nursing a hangover, he's the only one not to evacuate an office building that becomes a disaster area after a mishap involving nuclear testing equipment. An unexpected by-product of the accident is that it turns the molecules of the building, as well as Nick and the clothes he's wearing, transparent. When a team of shady government agents, led by David Jenkins (Sam Neill), notices that a human has been turned invisible, they try to take him into custody, planning to use him as the most dangerous secret intelligence agent the world has ever known. Distrusting their motives, the frantic and confused Nick escapes, and quickly begins learning new information about his unusual condition, such pragmatic details as trying to sleep when he can see through his eyelids and any unprocessed food he eats will give him away. Soon, however, he discovers that the scientist in charge of the experiments (Jim Norton) has no idea how to return him to normal, and begins plotting how best to live a semblance of a normal life while steering clear of his pursuers. Nick involves a beautiful woman he met the night before the accident (Daryl Hannah) in his dilemma, and soon she too becomes a target. Memoirs of an Invisible Man was adapted from a book by H.F. Saint.
Critic Reviews for Memoirs of an Invisible Man
Audience Reviews for Memoirs of an Invisible Man
½
Not your typical Carpenter film this and certainly not your typical Chevy Chase film either. Everyone knows the basic premise for 'The Invisible Man' and this film is based on a novel so there aren't too many surprises along the way. I think the casting of Chase was wrong for the film really, he does add a nice light touch but he doesn't fit the seriousness of it all. You can't help but think Dan Aykroyd or Eugene Levy will pop up and crack a few visual gags. Chase does charm well, adding a gentle feeling but the addition of Hannah as his love interest really doesn't help, she is so so wet and lame, turns the whole thing into real mush. Effects wise the film is quite good and at the time they did make an impact. Nothing original looking back of course, all the usual type of visual gags and transparency problems one would expect, but some sequences do look good still. Its more enjoyable to watch the special effects knowing no CGI was used, that does make you appreciate the work more and some of it is kinda cute these days. A pleasant film with no real surprises or much originality. Expect to see the typical bandaged man look a few times, can't have an invisibility flick without the obligatory bandaged man, makes you wonder where he got all the bandages. Also gotta wonder where he gets all the clothes and smoking jacket type attire from, the Claude Rains film really set a trend there. Bottom line, Chase is the good invisible guy and Sam Neill is the bad CIA guy after him. Personally the offer of being a top undercover spy working for Uncle Sam doesn't sound too bad if you ask me, dunno what Chase's character is complaining about. A wander into mainstream Hollywood type affairs for Carpenter without his usual quirky mysterious thrills. Nice film but nothing to shout about.
Phil Hubbs
Super Reviewer
½
Another Chevy Chase's film, that could be much better. Despite the special effects, and chilling story, Memoirs is not so funny. But is memorable, for me, at least. Weak.
Lucas Martins
Super Reviewer
a john carpenter film, so much is expected, but totally undermined by the lead, doing a bad bogie ...
Kevin M. Williams
Super Reviewer
Memoirs of an Invisible Man Quotes
There are no approved quotes yet for this movie.