Megiddo: The Omega Code 2
(2001)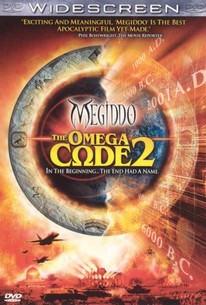 Megiddo: The Omega Code 2 Photos
Movie Info
In this combination sequel and prequel to the surprise box-office success The Omega Code, one man becomes the leader of an evil empire that could destroy the world, and his brother must rise against him in the defense of good. Stone Alexander (played as a child by Gavin Fink) is a moody, dark-tempered child whose parents died shortly after he was born. The mother who adopted Stone died several years later while giving birth to another son, David, and Stone is unable to forgive his brother for unwittingly taking his mother from him. Stone goes so far as to attempt to murder David, and their father, prominent businessman Daniel Alexander (David Hedison), responds by shipping Stone off to military school. There, Stone falls under the tutelage of The Guardian (Udo Kier), an instructor at the school who is actually an emissary of Satan. While the enmity between Stone (played as a teenager by Noah Huntley) and David (played by Chad Michael Murray) cools a bit with time, Stone once again finds himself in a bitter rivalry with his brother when they both fall in love with the same woman, Gabriella (played as a teenager by Elisa Scialpi). Stone eventually wins Gabriella's hand and they marry, as Stone (played as an adult by Michael York) rises to power as the ruthless leader of the military arm of the European Union; David (played as an adult by Michael Biehn), meanwhile, becomes a powerful figure in American politics, and is elected to the office of Vice President. What neither David nor Gabriella (played as an adult by Diane Venora) fully understand is that, under the influence of The Guardian, Stone has taken on the role of the Antichrist, and he attempts to curry his brother's favor (and arrange events that will make David president) in a bid for world domination. When it becomes clear to David that the goal of his brother's campaign is to put the world in the power of Satan, David realizes America and its allies must join forces against Stone's troops in a battle in Megiddo, Israel -- predicted in the Book of Revelations as the place of the final battle of good versus evil. Megiddo: Omega Code 2 also features Franco Nero, R. Lee Ermey, and Gil Colon.
News & Interviews for Megiddo: The Omega Code 2
Critic Reviews for Megiddo: The Omega Code 2
Audience Reviews for Megiddo: The Omega Code 2
Bad film and unneeded sequel
Brendan O'Connor
Super Reviewer
Megiddo: The Omega Code 2 Quotes
There are no approved quotes yet for this movie.