Megan Leavey
(2017)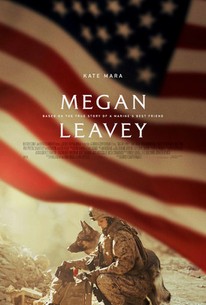 TOMATOMETER
AUDIENCE SCORE
Critic Consensus: Megan Leavey honors its real-life subjects with a sensitive, uplifting drama whose honest emotion more than makes up for its mild approach to the story.
Movie Info
MEGAN LEAVEY is based on the true life story of a young marine corporal (Kate Mara) whose unique discipline and bond with her military combat dog saved many lives during their deployment in Iraq. When she is assigned to clean up the K9 unit after a disciplinary hearing, Leavey identifies with a particularly aggressive dog, Rex, and is given the chance to train him. Over the course of their service, Megan and Rex completed more than 100 missions until an IED explosion injures them, putting their fate in jeopardy. Directed by Gabriela Cowperthwaite (BLACKFISH) from a screenplay by Pamela Gray and Annie Mumolo & Tim Lovestedt, the film also stars Edie Falco, Ramón Rodríguez, Bradley Whitford, and Common.
News & Interviews for Megan Leavey
Critic Reviews for Megan Leavey
Audience Reviews for Megan Leavey
½
Based on a true life story, Megan Leavey is a touching coming of age film about love and duty. Looking for direction Megan Leavey joins the US Marines and works to become part of the K-9 unit that detects bombs, and is eventually deployed to Iraq. Kate Mara gives and excellent performance that carries the film; really conveying the bonding experience that she and the dog go through and how torn up she is when they're separated after her discharge. And the dog does a good job too, coming off very nature and emotive. Also, the message of the film, about how affecting the relationship between man and animal can be, is quite moving. Megan Leavey is an extraordinary character drama that's heartwarming and inspirational.
Dann Michalski
Super Reviewer
Although I have gotten emotional over films with dogs as a central part of the film before, Megan Leavey is the first canine centric film I've watched since I became a dog owner myself, and it became an extremely moving experience. There's no denying an impact a dog can have on someone's life. For Corporal Megan Leavey, it was the military K-9 German Shepherd, Rex, who changed her life. The film covers many years of Leavey's time as a K-9 officer with Rex as they save lives uncovering bombs and other dangerous explosives. There are some typical military sequences that set up Leavey as a sort of, mess-up and misplaced character, but for the most part, the film is a unique and inspired take on one section of the military. Complemented by a solid supporting cast, the real heroes here are Leavey and Rex. Like any great relationship, there are ups and downs. But there are a few indicators that the bond they share isn't something that can be easily quantified, and that made it truly special. Sometimes people are made for each other and sometimes certain dogs are made for certain people. It's just the way it is. Kate Mara plays Leavey brilliantly, as she so often does with characters. She's one of these under the radar actresses who always seems to bring their A-game. And if not for the fact that I was looking for a movie about a dog, I probably would have forgotten about watching these trailers last summer. The film itself flew under the radar, but I'm sure glad I checked it out. 8.8/10
Thomas Drufke
Super Reviewer
½
This is a great true story, fine acting by Kate Mara and Common. This is a rare film that can balance quiet drama and in your face action well. Heart warming from beginning to end.
Jarrin Rozenblad
Super Reviewer
Megan Leavey Quotes
There are no approved quotes yet for this movie.