Megan Is Missing
(2011)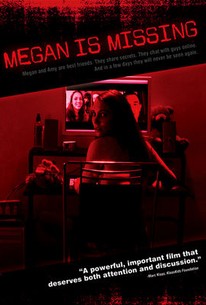 AUDIENCE SCORE
Critic Consensus: No consensus yet.
Movie Info
Inspired by actual events, director Michael K. Goi's harrowing cautionary drama tells the story of two typical teenage girls who vanished without a trace after being accosted by an internet predator. 14 year old Megan Stewart and 13 year old Amy Herman were best friends. Like most typical adolescents, they enjoyed chatting on the internet, and partying with their friends. Then on January 14, 2007, the unthinkable happened. Megan simply disappeared into thin air. Her friends and family searched frantically, but to no avail. Three weeks later, Amy, too, went missing. To this day, neither of the girls has ever been found. The feature offers a disturbing glimpse into the events as they may have unfolded in the days leading up to Megan and Amy's disappearances.
Critic Reviews for Megan Is Missing
All Critics (3) | Fresh (2) | Rotten (1) | DVD (1)
Megan Is Missing is a distressing look at the realities behind vulnerability, the damaging effects of online grooming and the truth behind what happens to those unfortunate to become victims at the hands of pure evil.
A forgettable, rotten movie with an important message that I'll likely never ever watch again.
Megan Is Missing is entirely convinced of the terrors that lurk online and by the time it comes to its chilling conclusion most of its viewers will be as well.
Audience Reviews for Megan Is Missing
As a kid I was an absolute gorehound but the older I've gotten the more my tolerance for onscreen violence has waned. What disturbs me most now is any kind of violence towards children so this found footage effort was particularly hard to watch. The fact it's partially based on a real-life case makes it all the more horrifying and even more exploitative. It tells the tale of two fourteen year old girls who disappear after befriending an older boy on the internet. The movie is schizophrenic in tone, the satirical feel of it's fake news reports are in stark contrast to the rest of the film's darkness. Twentysomething actress Amber Perkins is wholly convincing as a teen and her vulnerable performance will literally break your heart. I've seen some tough stuff over the years but the final twenty minutes of this film are probably the most disturbing, depressing and just plain sad I've ever sat through. If you have a daughter you'll never let her leave the house after watching this.
The Movie Waffler
Super Reviewer
Cast: Amber Perkins, Rachel Quinn, Dean Waite, Jael Elizabeth Steinmeyer, Kara Wang, Brittany Hingle, Carolina Sabate, Trigve Hagen Director: Michael Goi Summary: Employing a mix of storytelling techniques (including webcam footage, video chats and dramatized news reports), this chillingly realistic thriller charts the disappearance of two teens who vanish three weeks apart under mysterious circumstances. My Thoughts: "This isn't your normal type of scary film. It's a scary film on a realistic level. It's disturbing, intense, and hard to watch at times. But the message is clear and scary, especially for those who have kids. I don't have any kids of my own, but I do have custody of my niece and she will be thirteen next month and these girls are the same age or a year older. So seeing this film makes me want to keep her off the computer all together. I know there are more scary predators out there and they are not just on the computer. But this film shows you just how vulnerable young girls/boys can be to people who tell them what they want to hear and who feed on their insecurities. The Internet is a big world with many people pretending to be who they are not. So this is a great film to maybe watch with your older kids, or at least discuss with them to make them aware of how scary the net can be. I will admit that some scenes are a bit on the cheesy side, but the message rings louder. The last twenty minutes is the hardest part of the film to sit through. If you rent this film make sure to listen to the "statement" in the special features. The mans story is sad but also inspiring considering the awareness he has brought to the issue."
♥˩ƳИИ ƜѲѲƉƧ♥
Super Reviewer
If you can make it through the teenage girls "acting" and the director's creepy ideas of what teens do, you get a crappy ending. Terrible.
Christopher Brown
Super Reviewer
Megan Is Missing Quotes
There are no approved quotes yet for this movie.