Medea
(1969)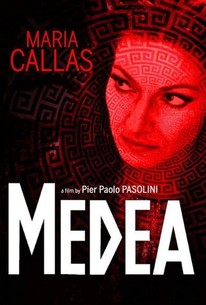 Movie Info
Put in the coldest possible terms, Medea is the story of a woman who gets sore at her husband and kills her children to get even. Greek opera diva Maria Callas is certainly in her element as Medea in this 1970 film version of the venerable theatrical piece, with Giuseppe Gentili as her husband Jason and Massimo Girotti as her father, King Creon. When Jason announces that he's prepared to bigamously marry princess Glauce (Margareth Clementi), she exacts her bloody revenge. Despite the excess verbiage and his notoriously loquacious leading lady, director Pier Paolo Pasolini conveys most of Medea's plotline visually. ~ Hal Erickson, Rovi
Audience Reviews for Medea
½
If you're a beginner to this ancient Greek tragedy about betrayal and revenge, then Pier Paolo Pasolini's abstract version really is not the place to start.(As strange as it may sound Lars von Trier's version is better suited for the beginner.) But that's not to say there are not rewards here for the adventurous filmgoer, namely the great Maria Callas in the lead. So, while I did have a sense of deja-vu from watching this(namely because of Pasolini's "Oedipus Rex" not being that stylistically dissimilar), I thought it was interesting how his version of ancient Greece almost resembled another planet through a great use of locations.
This film is brilliantly set and cast. Pasolini, almost wordlessly, distinguishes between the ancient and mythical world and modern and rational realm. Medea is completely associated with the elemental, while by birthright, Jason seems to be a bridge between the two worlds. Jason's denial of Medea severs the relationship to the past, never to be recaptured. This return to myth is a parabolic commentary on the then current state of Italian culture; by embracing American consumerism, values and the spiritual are negated - connection to the past is severed, forever unknown by modern man. We are the damned!
Stefanie C
Super Reviewer
½
Medea is an extraordinary film which some will find difficult. Telling the story of Jason and his quest for the Golden Fleece, this is not the stuff of Ray Harryhausen. Meeting the priestess of the Fleece, Medea, he falls in love with her and takes her home. Years later, after bearing him sons, she exacts a terrible revenge after he spurns her for a new love. Medea is also extraordinary in exhibiting Pasolini's demonstration of contrasts in plot development and framing. In the sequence in which we are introduced to Medea, we witness the mesmeric nature of a human sacrifice, which changes from the ecstatic to the horrific within the same sequence. This motif recurs throughout the film, and has prompted admiration from French philosopher Gilles Deleuze, who mentions Pasolini in his treatise on the movement-image. Filmed with a mixture of professional and non-professional actors, Medea is a challenging and refreshing change from the usual, as it builds up to a frightening climax in an unconventional way. Often shown in 'World Cinema' slots late at night, it's a film worth staying up for, or recording, for those seeking an alternative to Hollywood pap.
Cassandra Maples
Super Reviewer
Medea Quotes
There are no approved quotes yet for this movie.