Mechanic: Resurrection
(2016)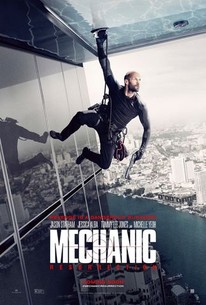 TOMATOMETER
AUDIENCE SCORE
Critic Consensus: With little to recommend beyond a handful of entertaining set pieces, Mechanic: Resurrection suggests this franchise should have remained in its tomb.
Mechanic: Resurrection Videos
Mechanic: Resurrection Photos
Movie Info
Arthur Bishop (Jason Statham) returns as the Mechanic in the sequel to the 2011 action thriller. When the deceitful actions of a cunning but beautiful woman (Jessica Alba) force him to return to the life he left behind, Bishop's life is once again in danger as he has to complete an impossible list of assassinations of the most dangerous men in the world.
News & Interviews for Mechanic: Resurrection
Critic Reviews for Mechanic: Resurrection
Audience Reviews for Mechanic: Resurrection
½
The first movie was a remake of the classic 1972 Charles Bronson thriller starring Jason Statham...and was reasonably acceptable to remake, I guess. Of course they then got carried away (as always happens) and thought it would be a good idea to make a sequel to said remake...of the original 1972 classic. Now everyone knows this would all end in tears and complete failure...accept the makers of this movie it seems. So once again we have yet another movie all about a super agent type bloke that is virtually invincible and that's about it. Bishop (Statham) is now living in Brazil after faking his death in the last movie. He is approached by some bad guys who work for another bad guy (Crain played by some bloke called Sam Hazeldine) who wants Bishop to kill three specific people. Bishop refuses, a fight breaks out, Bishop wins and escapes. Bishop is now living in Thailand (as you do) when he rescues a sexy blonde (Jessica Alba) from some drunk bloke. Turns out she has been blackmailed by Crain to meet up with Bishop and seduce him so Crain could then fake her kidnapping so he would carry out the hits. Well low and behold, in time, Bishop and Gina (Alba) do fall for each other and low and behold Crain's goons turn up and kidnap them both. Now Bishop must carry out the three hits to save his new girlfriend...zzzz. Seriously could this be anymore cliched and predictable? Who wrote this? How did they even get paid for this unoriginal tripe?? How did this even get a green light for fucks sake?! For starters this doesn't feel like an action flick, oh no, this feels more like a holiday destination video. The camera work is honesty stunning, Thailand, Rio, Sydney, Malaysia etc...all look beautiful, wonderful. If you're watching this on a good TV in 1080p, 2K, 4K or whatever, then these exotic locations will burst through your screen into your living room in bright, sharp, crisp, vivid colours. I lost all interest in the films plot and was more interested in the possibility of going to one of these places for my next holiday. What's more all the scenes on the beach in Thailand are enough to make you sick. The most perfect beaches you've ever seen in your live, the most perfect weather, and everyone in shot is tanned and beautiful (with the exception of Statham perhaps). What actually happens in the movie is of course ridiculous and crap, but that really shouldn't be any surprise. For Bishop's first hit he must infiltrate a prison in Malaysia, well get himself locked up. He does this by acting drunk and being a bit rude to a Malaysian cop. Apparently this is enough to get you banged up in this horrendous maximum security prison that looks like it holds the type of people that have eaten someone. All these hits have to look like accidents by the way, as you can guess this doesn't really seem to happen in my opinion. Pretty sure the first hit would look like someone strangled and suffocated the guy...because that's what he did. The second hit is what you see on the movies poster. It involves Bishop having to scale the outside of a skyscraper in order to break a glass bottom swimming pool that overhangs the building. In all honesty this is probably the best part of the movie because you see a lot of technical hitman type jiggery-pokery as Bishop works out how to make it look like an accident, and then how he manages to scale the outside of the building. But Tom Cruise this ain't, its all greenscreen and CGI. Once again the hit goes without a flaw but I'm pretty sure the guy could have gotten out of the pool in time. In between all these Bishop does try to rescue Gina from Crain's super posh yacht out at sea. He locates the yacht, gets on-board and manages to wipe out a good number of faceless henchmen. Alas he is eventually caught, given a good slap with some verbal from Crain, and then sent on his merry way to carry out hit number three. So basically, this entire rescue sequence was completely and utterly pointless filler that didn't amount to anything. The last stage on this videogame escapade sees Bishop going up against arms dealer Max Adams played by a very old Tommy Lee Jones. In order to make Jones look somewhat hip and trendy he wears bizarre clothing, some stupid coloured circular glasses and has some earrings. But because Jones is an A-list star they can't just have him killed off, so he teams up with Statham's Bishop to take on Crain. This naturally leads to the big final showdown on Crain's posh yacht where Bishop this time wipes out all of the faceless henchmen and (spoilers!) kills Crain. He does this without really breaking sweat or taking any injuries because he's got his invincibility cheat code switched on. You wanna see a one man army situation, well it doesn't get much more one man army than this crapola. I think you gotta be a hardcore Jason Statham fan for this one. Don't get me wrong I enjoy a good action flick and I've got nothing against Statham, but the man makes the same shit over and over and over again. He's becoming the new Steven Seagal but with bigger budget flicks. Every damn movie he makes he's either special forces, or an undercover super agent, or an ex-special forces/ex-military/ex-super cop or whatever, with super martial arts skills of course. I mean honesty, did the movie really need to take place in exotic locations across the globe? Or was that just the excuse to enable everyone to get a super extravagant holiday that's all paid for, plus you get a wage and you can call it 'work'.
Phil Hubbs
Super Reviewer
½
Jason Statham is back for more action in Mechanic: Resurrection, a fairly run-of-the-mill action film. When retired hitman Arthur Bishop is discovered in hiding by a former associate he arranges to blackmail Bishop into performing 3 seemingly impossible assassinations by sending a woman to seduce him and then abducting her. Statham gives a phoned in performance, as does Jessica Alba. And the plot is painfully formulaic. Still, Statham does deliver on the action with some incredibly intense and high-energy chases and fight sequences. A by-the-numbers, rote action film, Mechanic: Resurrection is a useless sequel that adds nothing to the series.
Dann Michalski
Super Reviewer
½
Half-heartedly directed with a poorly written, unsophisticated script. Alba is dreadful. The whole thing has you saying "Huh?" to yourself -- yet somehow, it's still entertaining if you turn off your brain.
Christian C
Super Reviewer
Mechanic: Resurrection Quotes
There are no approved quotes yet for this movie.