Meantime
(1983)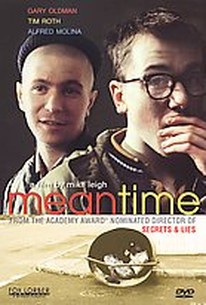 Movie Info
Colin (Tim Roth, making his screen debut) and his brother Mark (Phil Daniels, who starred in Quadrophenia) are down and out. They live in a squalid flat with their unemployed father, Frank (Jeff Robert), and their put-upon mother, Mavis (Pam Ferris). They're on the dole, and Mark is constantly scrounging for cash and cadging drinks from his friends, among them Coxy (Gary Oldman in his screen debut), a skinhead. Colin, shy and perhaps mentally disabled, has a crush on a good-natured local girl, Hayley (Tilly Vosburgh). But when Coxy brings him over to her apartment, he can only watch helplessly as a rather ugly scene unfolds. Mark, who is constantly mocking Frank's hypocritical and outdated world view, also makes fun of Colin and calls him "Kermit" and "muppet." Barbara (Marion Bailey, who would later appear in All or Nothing), the boys' middle-class aunt, drops by one day and offers Colin work helping her redecorate her house. Colin seems only mildly interested, but his parents pressure him to take the offer. Mark says that Barbara is exploiting Colin, but his family suspects that Mark is just resentful because Barbara didn't offer him the job. On Colin's first day, Mark turns up at Barbara's to learn that Colin hasn't shown up yet. As Mark and Barbara search the neighborhood for Colin, Mark makes insinuations about the state of Barbara's troubled relationship with her husband, John (Alfred Molina). Meantime, conceived and directed by Mike Leigh, was produced for British television, and shown at the 1984 Berlin International Film Festival. ~ Josh Ralske, Rovi
Critic Reviews for Meantime
Audience Reviews for Meantime
Like so many Mike Leigh productions, "Meantime" is essentially a film about nothing, but it does have several vivid performances and characterizations. The cast alone is irresistible to film buffs -- Tim Roth, Gary Oldman and Alfred Molina are all showcased near the start of their careers. (Warning: Oldman and Molina have very small parts, and the DVD cover which emphasizes Oldman is shamefully misleading). Roth and Phil Daniels (perhaps best known for starring in 1979's "Quadrophenia," though his appearance is radically different here) play bickering brothers in a struggling, working-class family. Everyone is disillusioned and bitter, and Roth is doubly burdened because he's, well, apparently a dimwitted autistic. An exasperating mouth-breather hiding behind a muddy anorak and thick glasses, Roth presents a sharp contrast to the commanding, belligerent roles he usually takes. Actually, Daniels seems to grabbed the Roth-like part as a surly malcontent who manages to rub everyone the wrong way. Other important contributors include Pam Ferris and Jeff Robert as the equally miserable parents, and Marion Bailey as a vulnerable aunt who strains to put on a cheery face (think Dianne Wiest). Meanwhile, Peter Wight almost steals the movie in a hilarious, deadpan scene as a casually philosophical landlord. One unusual flaw seriously hurts the appeal of "Meantime": Andrew Dickson's soundtrack. Outside of "Welcome to L.A." (1976), I can't think of another solid film so grossly sabotaged by an unlistenable score. Words alone cannot capture its wretchedness. Some instrument sounding like a tack piano or hammer dulcimer meanders up and down a small, ringing span of notes in a vaguely Middle Eastern mode, while a quacking saxophone occasionally intrudes to add extra color. The sheer torture of hearing the main instrument strain upward to the same quizzical notes plucked over and over again is something no one should have to experience twice. It's that awful. Really.
Eric Broome
Super Reviewer
English drama about a workshy family hanging around their council flat and going down the pub and bickering, mostly. Sometimes Mike Leigh's improv dramas work, sometimes they just dribble on for a bit and then stop. This is one of the dribblers, but it WAS his first film, so he's allowed. Anyway if he'd made it later his budget might never have stretched to the cast; Tim Roth plus Gary Oldman plus Alfred Molina plus Phil Daniels equals a meal at the Ritz for the price of a KFC bargain bucket.
½
Doctor Octopus, Commissioner Gordon and The Abomination all join forces in this 80's gem. Displays real people in a real environment trying to get on with their daily struggles of unemployment. Leigh certainly has an eye for realism, but not an ear for music. It's probably the fact this was 24 years ago now, but the music is jarring and off-putting. Roth and Phil Daniels are brilliant as brothers, displaying the right amount of bitter hatred and genuine love and concern.
Luke Baldock
Super Reviewer
Meantime Quotes
There are no approved quotes yet for this movie.