The Mean Season
(1985)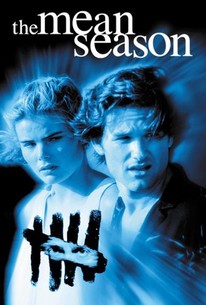 Movie Info
Nothing in The Mean Season is quite as powerful as its opening: a languid shot of a young girl, wandering with a seeming carefree air down the beach, suddenly turning to stare in tearful terror at the man she knows is about to kill her. The plot concerns the search for the serial murderer who was "introduced" in the opening. Miami journalist Malcolm Anderson (Kurt Russell) writes a newspaper series on the killings and as a result is the recipient of phone calls from the killer Alan Delour (Richard Jordan). Delour likes Anderson's work and promises to call in with exclusive accounts of his upcoming murders -- though he doesn't go so far as to tell Anderson where he'll strike next. The story becomes bigger than both Anderson and Delour, with the latter growing jealous of Anderson's sudden celebrity and with both men using one another to advance themselves. The inevitable showdown takes place during a convincingly staged hurricane, with Anderson's lady friend (Mariel Hemingway) an unwilling pawn between the two ego-driven men. The Mean Season was adapted by Leon Piedmont from John Katzenbach's novel In the Heat of the Summer.
Critic Reviews for The Mean Season
All Critics (8) | Fresh (4) | Rotten (4)
Nicely shot but thematically daft schlock about the line past which storytellers become the story.
A gripping thriller that also challenges us to contemplate the ethical responsibilities of journalists.
Unsatisfying mix of "Red Dragon" and "Absence of Malice"
September 11, 2003 | Rating: 2/5
Audience Reviews for The Mean Season
½
Starts off really good and then really makes me lose interest about an hour in. The killer keeps building up to essentially nothing. I kept waiting for this insane plot twist, but nothing happens really, other than the predictable ending sequence (I won't even bother calling that a twist). So it's good for the first half of the film, but then just dies. Thankfully Kurt Russell's awesomeness helps to make this movie watchable at least. He helps to partially nullify the terrible supporting cast, especially the useless love interest, who's only purpose is to get kidnapped. Could have been a lot better.
Stephen Skudlarek
Super Reviewer
A disappointing and lackluster thriller, The Mean Season fails to deliver. Based on a novel, the film follows a burnt-out reporter who catches the story of his life when he's contacted by a serial killer who wants to use him as his messenger to the public. Kurt Russell, Mariel Hemingway, and Andy Garcia lead the cast, but give bland and uninspired performances; especially Hemingway, whose acting is dreadful. Additionally, the storytelling is weak and lacks any suspense or intrigue. And, while there's an interesting theme of reporters effecting and becoming the news, it's not executed very well. The Mean Season is a poorly made crime thriller that lacks passion and intensity.
Dann Michalski
Super Reviewer
The Mean Season Quotes
There are no approved quotes yet for this movie.