Mean Girls 2
(2011)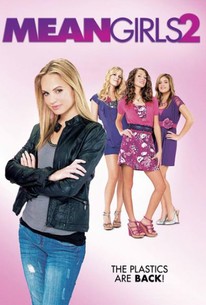 AUDIENCE SCORE
Critic Consensus: No consensus yet.
Movie Info
Johanna "Jo" Mitchell is a 17-year-old tomboy, who lives with her father, who works as a race car driver for NASCAR. The first day of school, she explains that she wants to avoid high school drama, and already knows some of the mean-spirited cliques to expect when going to North Shore High School.
Critic Reviews for Mean Girls 2
All Critics (2) | Fresh (1) | Rotten (1) | DVD (1)
Whatever problems I had with the 2004 feature aren't even an issue here, as the new film offers a decidedly more pedestrian take on the clique warfare concept, trading Fey's sly ambition for cruel DTV routine.
Mildly amusing sequel follows same "be yourself" storyline.
Audience Reviews for Mean Girls 2
I'm questing why I even bothered watching in the first place. It's low level, unoriginal, stupid 'entertainment' which doesn't come close to the original. The 'jokes' are heavily scripted and aren't performed well at all, making it tedious to watch. Stay away.
Sophie Burgess
Super Reviewer
½
Same all high school crap with different new faces. Making this sequel was quite unnecessary in the first place.
Dead Angel
Super Reviewer
½
Kind of depressed me it was so average. Can't even really complain about it, because it is exactly what you expect it to be. Made for TV movie with entirely new cast to the original, but copying most of it's ideas with a few new twists thrown in to keep it "fresh". I would say this was okay for a young teen audience. The cast are okay for the most part - I would say Jennifer Stone is the most convincing. The new lead, Jo, (Meaghan Jette Martin) is okay... kind of like a young Rachel McAdams. The plastics are pretty bad - especially the dumb character replacing Amanda Seyfried's original dumb girl - let's just say she is no competition! Mostly this just felt like Disney actresses doing the usual over the top and unconvincing acting you expect from that genre. (I believe some of them actually are Disney actresses? I am a little out of that age range where I would know, personally I do not recognise these girls from anything they have been in before). This is one to catch on tv, but not pay money to see!
Nicki Marie
Super Reviewer
Mean Girls 2 Quotes
There are no approved quotes yet for this movie.