Me, Myself & Irene
(2000)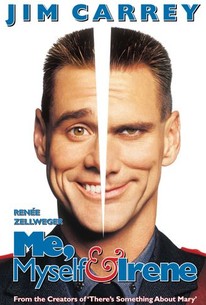 Me, Myself & Irene Photos
Movie Info
Six years after Dumb and Dumber, Jim Carrey reunited with Peter Farrelly and Bobby Farrelly for this anarchic comedy with a hint of romance. Charlie (Carrey) is a good-natured Rhode Island state trooper who likes helping people. But years of internalizing his frustrations about his work and his family have caused Charlie to develop an alter ego: Hank, an abusive, violent, sexually compulsive police officer. Charlie can keep Hank at bay with medication, but just barely. When Irene (Renee Zellweger) finds herself in legal trouble through a series of misunderstandings involving her ex-boyfriend, Charlie must escort her on a long drive to New York for questioning. After Charlie loses his medication, he and Hank wind up vying for her affections: Charlie wants Irene to marry him, while Hank has more brutal intentions. Me, Myself, and Irene also features Chris Cooper, Robert Forster, and Jessica Harper, as well as Anthony Anderson, Mongo Brownlee, and Jerod Mixon as Charlie's rotund, African-American sons. ~ Mark Deming, Rovi
News & Interviews for Me, Myself & Irene
Critic Reviews for Me, Myself & Irene
Audience Reviews for Me, Myself & Irene
Ace Ventura, The Mask, Dumb and Dumber. All the comedies with Jim pre to Me, Myself and Irene, were all masterpieces. This was unexpectedly crude and certainly not the best but it was also Jim's best physical performance in terms of his reputation as being "the man of a thousand faces".
Directors Cat
Super Reviewer
Bethany Murphy
Super Reviewer
½
Me, Myself & Irene is one of the finest films directed by the Farrelly Brothers. For me, this is Jim Carrey's last funny film. After this film he started going off the deep end, and made a couple of really bad films. But this is a fine Swan song to a good comedic actor. The humour in this film sharp, witty and crude. But thats what makes it so funny. Renee Zellwegger gives her only good performance of her career, as she's quite the bad actress. However in this film, this is one of the best comedies that the Farrelly Brothers have made. The humour in Me, Myself & Irene is very low brow as you'd expect from the Farrelly's. This is one of their best films. Jim Carrey is very funny in this film, and it sucks that he hasn't made anything watchable since this film. The cast do a good job here. Theres plenty of scenes that are memorable, especially every scene involving Jim Carrey's sons. The film is very well done, with non stop laughs. The humour may not appeal to everyone, but for fans of most of the Farrely Brothers films, you won't be disappointed, I personally preferred this film over There's Something About Mary. Some of the cast are surprising, I did not expect to see Richard Jenkins here and Chris Cooper, both have played in excellent films, but it's great to see them doing something different. Me,Myself & Irene is one of my favorite comedies and it definitely brings on big laughs, a great comedy.
Me, Myself & Irene Quotes
There are no approved quotes yet for this movie.