McFarland USA
(2015)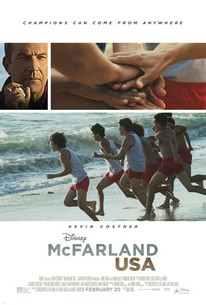 TOMATOMETER
AUDIENCE SCORE
Critic Consensus: Disney's inspirational sports drama formula might be old hat, but McFarland, USA proves it still works -- especially with a talented director and eminently likable star in the mix.
Movie Info
From Disney comes MCFARLAND, the true against-all-odds story of the 1987 McFarland high school cross country team in an economically challenged community. (C) Disney
News & Interviews for McFarland USA
Critic Reviews for McFarland USA
Audience Reviews for McFarland USA
McFarland USA undeniably means well. It's sweet and charming, but like most inspirational sports movies, there is not a single surprise or unpredictable story beat in this film. It is very much an underdogs rising up to victory tale. The script also falls flat with the scenes involving Costner's wife, feeling awkward and labored. McFarland USA will choke up undemanding viewers, but there isn't enough in it to be remembered as a great sports film. Rating: 59
½
Can a movie be completely predictable and still be entertaining? With McFarland, USA the answer is an unqualified yes. I will admit that the narrative follows the familiar beats of inspirational sports dramas. Disney has made an industry of this genre. Remember the Titans, Cool Runnings, The Rookie, Miracle - they're all examples of how this subject has been done many times before. In these cases, it's been accomplished successfully. The variation to formula in this case is cross country track. Okay so that's a minor difference, but the picture has an authenticity to it. McFarland, USA is an genuinely heartfelt story worth revisiting. I feel compelled to justify why I enjoyed this. Those viewers who already find these traditional tales difficult to enjoy, will not be taken in by this film's simple charms. However of you're open to a nicely acted production that makes you feels good, you should give this a try. fastfilmreviews.com
Mark Hobin
Super Reviewer
Many movies follow a proven formula very closely, but sometimes a well written, well executed formulaic movie can remind you how appealing that formula can be, and that is McFarland, USA, an inspirational Disney sports film that warmed my heart. Kevin Costner stars as a science teacher and sports coach for a working class California town mostly populated with Mexican-American immigrant families. He sees the endurance and speed of several students and decides to form a cross-country team, even though he's never coached anything related to track in his life. What follows is a mixture of the inspirational teacher film and the inspirational sports team film. Thankfully the screenplay and director Niki Caro (Whale Rider) take their time to flesh out the runners, giving them personalities and different degrees of depth, troubled by real-world problems without easy answers. The movie works as a great tool for empathy as it respectfully illuminates the limited economic opportunities and backbreaking labor of so many Mexican-American immigrants toiling in our fields. The movie creates an amiable sense of community and even though moments can feel contrived, I always had a smile on my face. The people came across as people, complicated, proud, hopeful. It opens up a world and showcases just how hard these people work to assist their families. Costner is a stable anchor for the film but it's his young cast that really give the film its lift. The emotions are genuine and the uplift is earned, thanks to careful plotting and generous characterization. McFarland, USA is a feel-good movie that's better than good and a perfect film for the whole family. Nate's Grade: B+
Nate Zoebl
Super Reviewer
McFarland USA Quotes
There are no approved quotes yet for this movie.