May
(2003)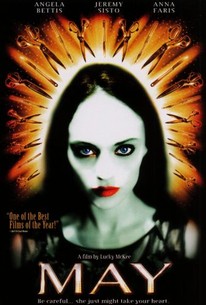 Movie Info
May has always been a bit of an outsider--you might consider her a quirky girl. If you passed her on the street, you wouldn't notice that she is any different from scores of other young women trying to make their way in the big city. She lives alone, works as a veterinarian assistant, makes her own clothes, and dreams of finding the right person to fall in love with--soon. There is that hot guy who works as a mechanic down the street. A chance for romance looks promising, yet it's hard to be optimistic; he's not exactly normal either. Maybe she'll find what she's looking for with the sexed-up lesbian receptionist at work? As the adage goes, love tends to grow where you least expect it. What May really needs is a friend. But true friends are hard to make--unless you have plenty of body parts in your freezer waiting to be stitched together.
Audience Reviews for May
A girl with a lazy eye grows up as a social outcast with a doll as her only friend; she gets corrective lenses as a young adult and is suddenly set loose on the dating world with no social skills and a dangerously loose grip on reality. An effective, creepy character study for the first two thirds, but it takes an unfortunate turn into predictable slasher territory for the climax.
½
May is the story of May an odd girl who is very weird. She's never really fit in anywhere. When she meets a guy, things go well, but she starts doing stuff and he leaves. That's when the horror starts. May is the type of horror film that blends horror and drama together, the film is pretty sad and you end up feeling sorry for May. The story itself is very well written, terrifying and dramatic all rolled into one. What surprised me most about this film is it's how well crafted the story was. May is an intense film and at times you feel uneasy and startled. In a worthy note, Anna Farris gives her best (and only) performance. May is a solid Horror film that successfully combines drama and horror to create a poignant, terrifying film. Director Lucky McKee directs a solid cast that give great performances here. May is a different type of horror film, one that pushes the limits of terror and it does it very well with the lead actress Angela Bettis giving a sad, psychotic performance as the title character; she makes this film what it is. Brilliantly conceived and well-written, this is a much needed film in the genre because we have so many unoriginal films in the horror genre nowadays. It's always great to see a director doing something different, something good and original. May is a disturbing film, one that horror fans should definitely check out. This is a brilliantly directed film and showcases the talents of a director who knows how to deliver shocks to an audience. One of the best films of its kind since Brian DePalma's Carrie.
I wasn't quite sure what to expect from this one, but I may be a little freaked out. Here we have a girl who lives in her own world that she's made in every sense of the word. Something on it's own, unique trip to a dark place within a darker mind; and I say alright.
May Quotes
There are no approved quotes yet for this movie.