Massacre in Rome
(1973)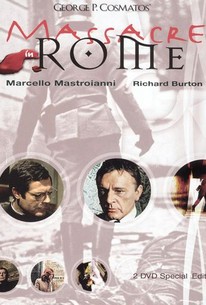 AUDIENCE SCORE
Critic Consensus: No consensus yet.
Movie Info
In March of 1944 the Thied-Reich's stronghold over Europe was weakening, and the swelling resistance in Nazi-occupied Rome would spark one of the most devastating wartime atrocities in modern history. When thirty-three members of the SS military police were ambushed and gunned down by the Roman underground, an enraged German High Command ordered the death of ten Roman civilians for each of the thirty-three SS soldiers killed. A decree issued directly from the Pope states that Roman priest Pietro Antonelli (Marcello Mastroianni) must collaborate with Nazi Lieutenant Colonel Herbert Kappler (Richard Burton) in gathering 330 Roman citizens for systematic execution. Torn by his faith and devoted to pacifism, Father Antonelli must choose between defying direct orders from the highest seat in the Catholic church, or remaining true to his vows and standing by as 330 innocents are gunned down on the orders of history's most notorious dictator.
Critic Reviews for Massacre in Rome
All Critics (3) | Fresh (1) | Rotten (2) | DVD (1)
Cosmatos went on to bigger and in many ways duller films, Massacre in Rome remains one of his finest pictures
Whatever the merits of the pro and con arguments over the book the movie is both heavy handed and unconvincing.
Audience Reviews for Massacre in Rome
Massacre in Rome is a well crafted movie that recounts the events of the Fosse Ardeatine massacre, a massacre committed by the German SS during the Second World War. Although it could have been a bit better, the film is highly engaging and well acted. This is a retelling of a dark part of history during the war, and Cosmatos does a good job at capturing effective performances with the sheer brutality of the Nazi regime. This film will surely intrigue the war or history buff, and it is a film that is short, but manages to be a riveting piece of work. I find that this film is overlooked and it deserves to be rediscovered. George P. Cosmatos made a more dramatic film with Massacre in Rome than his later work. This is a film with a great cast, a well thought out story and a well written script that makes it standout among Cosmatos' best efforts. Although not perfect, this is still worth seeing and there is enough tension to keep you entertained for its runtime. I really thought it was a well made movie, one that tells a story with subtle overtones of the chaos of war. War dramas like this are rare, and if you enjoy a well made genre movie, then this is for you. Massacre in Rome is short, but it tells a story that needs to be told, and it doesn't overdo anything either. There are parts that could have been done a bit better, but overall this is a very good film that is worth checking out.
Massacre in Rome Quotes
There are no approved quotes yet for this movie.