Marley & Me
(2008)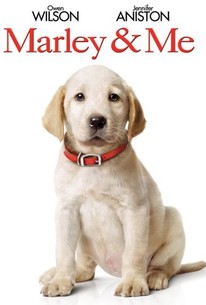 TOMATOMETER
AUDIENCE SCORE
Critic Consensus: Pet owners should love it, but Marley and Me is only sporadically successful in wringing drama and laughs from its scenario.
Movie Info
As the snow falls on their wedding night, newlyweds John and Jenny Grogan decide to leave behind the harsh winters of Michigan and head south to begin their new lives in West Palm Beach, Fla. They obtain jobs as journalists at competing local newspapers, buy their first home, and begin to make their way through the challenges of a new marriage, new careers and, possibly, the life-changing decision to start a family. Unsure of his preparedness for raising children, John confesses his fears to his friend and fellow journalist Sebastian, who comes up with the perfect solution: John should get Jenny a puppy. The Grogans adopt the cute, 12-pound yellow Labrador, who in no time at all, grows into a 100-pound steamroller of unbridled energy that turns the Grogan home into a disaster area. He flunks obedience school, chews off dry-wall, takes a bite out of the sofa, overturns garbage cans, steals a Thanksgiving turkey, consumes pillows and flowers, drinks toilet water, and chases the UPS guy. Even a newly-purchased, expensive necklace isn't safe from Marley's voracious antics. Amidst the mayhem he generates through the years, Marley sees the Grogans through the ups and downs of family life, through job and home changes, and most of all, through the myriad challenges of a growing family. As John and Jenny come to realize, Marley--"the world's worst dog"--somehow brings out the best in them.
News & Interviews for Marley & Me
Critic Reviews for Marley & Me
Audience Reviews for Marley & Me
Comedy about a couple who get a dog that takes over their lives. I like the storyline as it is realistic and believable about how life isn't always how you planned it to be but somehow you get through the highs and lows. Good performances from Jen and Owen. The ending is very sad - be warned.
Candy Rose
Super Reviewer
At first glance this is a soft fluffy rom-com that offers little more than the usual bent nose of Wilson and Aniston trying her best to ditch her 'Friends' persona. To this extend it is just that...Wilson is a poor actor and not funny whilst Aniston is another poor actress who also isn't funny and is still like Rachel from Friends haha (doing rom-coms wont help her acting career). The film is a gentle comedy with romantic issues hehe and is based around the owning of a dog and the main characters ensuing lives with the dog. Its not original but it is a swing which you don't really see coming as you assume its just another stupid 'beethoven' film. It is touching and made well but the main casting is poor and it shows, could of been quite good with a better leading duo.
Phil Hubbs
Super Reviewer
Hands up! I admit it, I actually liked this film, like so many people told me I would. Much more of a film about family struggles, than the soppy puppy story I thought it was going to be.
Lady D'arbanville
Super Reviewer
Marley & Me Quotes
There are no approved quotes yet for this movie.