Marigold
(2007)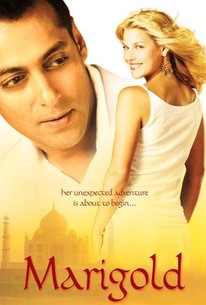 TOMATOMETER
AUDIENCE SCORE
Critic Consensus: Marigold attempts the difficult trick of combining Bollywood movies and American rom-coms -- and ends up with an awkward blend that will satisfy fans of neither.
Movie Info
A demanding American actress (Ali Larter) heads to India in order to shoot a low-budget Hollywood film, only to find herself stranded in Bombay with no luggage and attitude to spare. Despite the unfortunate start to her Bombay adventure, the once-jaded actress is soon swept up in the glitz and glamour of the local filmmaking scene and cast in a lavish Bollywood musical. Once on the set, she meets a handsome prince and falls hopelessly in love.
Critic Reviews for Marigold
Audience Reviews for Marigold
½
"If you had a choice, tradition or love, what would you take?" If you have ever seen a Bollywood movie, you'll know they are longer than most movies due to the multiple song and dance routines. Don't get me wrong, I like Bollywood movies and watching a movie with sub-titles is no hardship but I find any movie over three hours long is a tad too long to be appreciated. Fortunately, this one fits into the "standard" movie length which happens to be a plus in my book.
Plot: An American actress, the beautiful and bitchy Marigold (like the flower), played by Ali Larter goes to India to act in a low budget film, only to find herself stranded there when she finds on arrival that the film has been folded due to financial issues. Worse than that, she loses her luggage and is out of money. She befriends an Indian girl Rani who gets her a role in a Bollywood musical which she accepts hoping that she can earn enough money to get back to the States. Whilst there she meets Prem, the suave and handsome choreographer of the film played by Salman Khan, in real life Bad Boy Bollywood mega-super star who teaches her the art of dancing.
An interesting movie!! This is the story of a woman who travels to India for a movie, and discovers not only herself but love. As she redefines concepts of life, she realizes that her heart desires more than just happiness. Great cast- Salman Khan, Ali Larter, Suchitra Pillai-Malik, and Nadana Sen. Great performances by Ali Larter and Salman Khan. Great music. Definitely worthy!
Marigold Quotes
There are no approved quotes yet for this movie.