Margaret Cho - Notorious C.H.O.
(2002)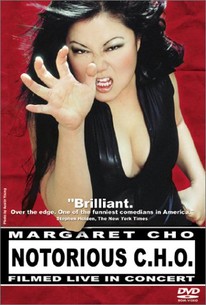 Movie Info
Margaret Cho is an NC-17 woman in a PG-13 world. Very, very little can be quoted from this concert film, as can be expected from a woman who, in the film's empowering conclusion, sounds the rallying cry to live "without restraint." Leave it to Cho to reference September 11 with a joke that is at once profane and respectful. Like Richard Pryor, the Korean-American outlaw comedian has found her niche with concert films that allow her the freedom to be her "actual self." She riffs unabashedly about relationships gone sour and relates her experiences as a sexual Captain Kirk, boldly going where she has never gone before. Notorious, yes, but not as accessible for the uninitiated as her last concert film, I'm the One That I Want, which recounted the rise and fall of her ill-fated sitcom. The faithful, though, won't pass up the chance for a private audience with the diva of the disenfranchised. --Donald Liebenson
Critic Reviews for Margaret Cho - Notorious C.H.O.
Audience Reviews for Margaret Cho - Notorious C.H.O.
½
I'm glad that Margaret Cho has faded away. It is amazing how she was able to recycle one decent set into two feature films and healthy paydays doing stand up shows across the country. Cho certainly received the benefit of being one of the first to be the comedic "hag" to her gay audience and the novelty pushed her to grand levels in my appearance. Destined to be a footnote in history.
John Ballantine
Super Reviewer
½
A glorious sexually charged stand up that cracks you up til you hurt.
Sunil Jawahir
Super Reviewer
Margaret Cho is raunchy. Not a bad thing necessarily especially since she is so extraordinarily honest about herself and the observations she makes about sex, relationship, family and self-love (yes, both kinds). The Notorious C.H.O. is more of a platform for her call to arms for tolerance and living without fear. She touches on the attack on New York and at the time of the taping was probably one of the first jokes made after 9/11. And she campaigns for all people who are minorities whether based on race, sexual orientation, body type, social status, etc. to stop believing in all the ad campaigns and prejudices and start loving themselves to hilarious effect. Unfortunately, this doesn't come close to the bravery of I'm The One That I Want. No where in Notorious does she come close to the depth of soul-searching and honest reflection of herself as she did in I'm The One, which in itself is a hard act to follow. Notorious C.H.O. is more frivolity and less substance, but that's just fine this time around. With all the chaos in the world that Cho mentions it's wonderful to just sit back and have someone this talented keep you stitches for 90 minutes.
Cassandra Maples
Super Reviewer
Margaret Cho - Notorious C.H.O. Quotes
There are no approved quotes yet for this movie.