Maniac Cop 3: Badge of Silence
(1993)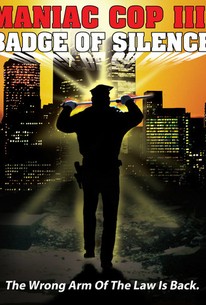 AUDIENCE SCORE
Critic Consensus: No consensus yet.
Maniac Cop 3: Badge of Silence Photos
Movie Info
In Maniac Cop (1988), we were introduced to a disfigured psycho law enforcement officer. It wasn't enough that this revenge-driven fiend killed and mutilated his victims: he also kept their pelts and scalps as trophies. The part was play by Robert D'Zar in the first two Maniac Cop flicks; D'Zar is back for Badge of Silence: Maniac Cop 3, in which he continues his reign of terror, as the good cops endeavor to put an end to his activities. By way of a plot, a hush-hush conspiracy is thrown into the proceedings. The slash-and-gashfest was written by Larry (It's Alive!) Cohen, while the musical score was by no less than Jerry Goldsmith.
News & Interviews for Maniac Cop 3: Badge of Silence
Critic Reviews for Maniac Cop 3: Badge of Silence
There are no critic reviews yet for Maniac Cop 3: Badge of Silence. Keep checking Rotten Tomatoes for updates!
Audience Reviews for Maniac Cop 3: Badge of Silence
½
Maniac cop is now a vengeful ghost, which made no sense at all. A piece of junk.
Sylvester Kuo
Super Reviewer
Maniac Cop 3 is a pretty good third entry. But there are things that bug me about the third sequel to Maniac Cop. Namely why is Matt Cordell ressurected and what does the voodoo priest has got to do with the story. Those are the things that bugged me about this film, and It's what brought this third entry down a notch. Because of the fact that nothing is really said about the story, this third entry into the awesome action Horror series makes it a weak entry. Despite this, the film still manages to entertain. But theres still a nagging feeling that the film could have at least gone through another rewrite before the cameras started to role. But as a fan of the first two films, I'm still happy with this film. Matt Cordell is back, and thus starts his reign of terror and mayhem. Maniac Cop 3 is still very entertaining and action packed with a terrific horror elements. Robert Z'dar is back as Cordell and he gives an even more intense performance this time around.Acting opposite Z'dar is Robert Davi back from the second film. Davi manages a good performance here, and director William Lustig's directs this action Horror extravaganza. A weak but satill very enjoyable film, this a must see film for fans of the series. Maniac Cop 3 is a good conclusion to a great trilogy of action Horror films that are underrated. The Maniac Cop series is very original and amusing it successfully combines two great genres into one to create a unique horror series. The Maniac Cop films are classics of Horror, I don't think it should get all the bad praise it's been getting. If you love Horror, you might want to check out this series.
The undead policeman returns to protect a female policewoman in a coma after she has been wrongfully portrayed. None of the campiness that made the orignal fun and not much in the way of gore sooooooo.... not much going for it. I'll just find the original to watch again.
Maniac Cop 3: Badge of Silence Quotes
There are no approved quotes yet for this movie.