Maniac Cop
(1988)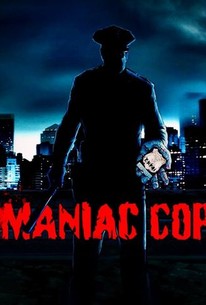 Movie Info
In this gripping thriller, a renegade New York cop becomes a terrifying vigilante/killer.
Critic Reviews for Maniac Cop
Audience Reviews for Maniac Cop
½
Atkins and Campbell have been in their share of Z-grade dregs but 'Maniac Cop' is their first collaboration and it's a regressive and preposterous crime thriller. The opening with the titular character assembling his uniform accoutrements (such as nightstick, holster, etc.) is ultrastylish and sets a dynamic tone, the convoluted backstory for what is essentially a zombie movie is second-rate and dopey. Not to mention, Lustig has a fondness for ugly Dutch angles and films the seedy murders as routinely as possible (aside from an impressively perilous piece of stuntwork off the docks). 'Bad Lieutenant' already mined the potential of a law-enforcer who is more amoral than the criminals he is pursuing. 'Maniac Cop' is a lousy action film that squanders Campbell's innate camp value.
Cory Taylor
Super Reviewer
Maniac Cop is one of those horror films that deserves to be treasured by the Horror fan. It offers a great blend of horror and action. The cast is surprisingly good. This film is a great ride from start to finish.Maniac Cop is a superior B movie. This is one of William Lustig's finest horror films since Maniac. There is nothing to hate about this film. Maniac Cop offers a good blend of action and horror from a script by Scriptwriter Larry Cohen. A great cast of actors deliver great performances most notably Bruce Campbell (The Evil Dead) and Tom Atkins (Lethal Weapon). For me along with The Evil Dead, Maniac Cop is the best Horror film that Bruce Campbell has starred in. Robewrt Z'dar plays the Maniac Cop Matt Cordell, responsible for murdering innocent people in the streets of New York. Maniac Cop is the first of three films featuriung this homicidal cop bent on destroying the NYPD and the city of NY, whom he loyaly served, but got framed for something that he did not do. Of the three films in the series, I throughly recommend this one, and the second one. Maniac Cop has become a horror favorite over the years, and it's no wonder why. Though not the best of it's kind, it's still pretty original and good considering that this was made at the end of 80's, and the horror films weren't as good as they were, only with a few exceptions of course. I highly recommend this film, and it holds a special place in my Horror DVD collection.
This film is pure shit that can't even be saved by Tom Atkins, Bruce Campbell, or Richard Roundtree.
Chris Garman
Super Reviewer
Maniac Cop Quotes
There are no approved quotes yet for this movie.