Manderlay
(2006)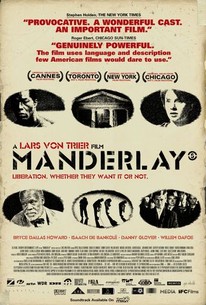 TOMATOMETER
AUDIENCE SCORE
Critic Consensus: Manderlay may work better as a political statement than as a film, making its points at the expense of telling a compelling story.
Movie Info
The politics of slavery and the follies of nation-building highlight Danish director Lars von Trier's thought-provoking follow-up to the director's 2003 drama Dogville, featuring The Village's Bryce Dallas Howard in the role originally played by Nicole Kidman, and shot in the same stage-bound style as its predecessor. Shortly after leaving Dogville, Grace (Howard) and her father (Willem Dafoe) wander into a gated Alabama community still operating under the tenets of slavery. Appalled to stumble across a brutal scene in which a white master is viciously lashing his slave (Isaach de Bankolé), Grace hastily intercedes and pleads with the abusive man to treat his workers with respect and dignity. When merciless matriarchal plantation owner Mam (Lauren Bacall) dies shortly thereafter, the remaining slaves, who have never tasted freedom and only known life under "Mam's Law," implore the sympathetic Grace to help ease their turbulent transition toward democratic rule, with disastrous results. ~ Jason Buchanan, Rovi
News & Interviews for Manderlay
Critic Reviews for Manderlay
Audience Reviews for Manderlay
Every time I think of this film's title, I always think of that line in "Wild is the Wind" that goes, "I hear the sound of mandolins", only I think, "I hear the sounds of Manderlay", and it's always Nina Simone's version in particular that I'm thinking of. Probably because this film, like Simone's awesome version of that song, is pretty black-filled, sad and overlong, though especially sad, or at least for John C. Reilly. Hey, I can understand why he was so especially hurt and offended about that donkey dying that he bailed out of this project, because he related donkey, seeing as he looked like one. Yeah, I know, not really, but hey, it's no more of a stretch than their thinking that Bryce Dallas Howard could pass for a character once played by Nicole Kidman. Of course, Lars von Trier could care less about consistency, unless of course he's being consistent in making Grace Mulligan and her struggles (Man, that poor girl can't catch a break no matter what time she's in) really nothing more than pure symbolism. I guess that means that this film will also keep up that "Dogville" formula of being good, though still so stylized, messy, unsubtle and over narrated by John Hurt to where its great story finds itself far from up to par. It certainly keeps of that formula piece of not being the consistently exciting film in the world, because although this film is good and not terribly slow, it's still a Lars von Trier movie set entirely on a blacked-out sound stage with the story structure of a book. What I underemphasized in my review of "Dogville" is the fact it was actually hardly dull, yet still slow, and this film is no exception, though its slowness is a bit more intense, to where the film is still not all that consistent in dullness, yet still has its duller moments, with the help of a bit more dryness and vivid stylizing within the atmosphere. For these slower points, credit is also due to the simple fact that, while the film is considerably shorter than its predecessor, it remains quite lengthy, yet with subject matter that doesn't terribly warrant such lengthiness, thus leaving repetition to set in, so that the film can break even. Still, although this is looser than "Dogville", it remains tainted by the moments of rushing that severely damaged the subtlety within its predecessor and does the same here, for although this film isn't with as much potential to squander, there's still much ambition that tragically rings false in some major parts, due to rushing and an occasional bit of jarring inconsistency plaguing progressive exposition and rendering character layers unevenness. Again, this film's faulty execution of ambition is less of a loss than it was in "Dogville", yet the film remains improvable, nevertheless. The film's intentions are noble, yet its substance is lacking, with too much style and emphasis on message and less focus on oomph, leaving the film to fall limp in quite a few parts. However, with all of its missteps, where the film could have fallen as an underwhelming, considerably inferior sequel, it ultimately comes out as, well, an inferior sequel. Still, on its own, this film is well worth the sit, for although its ambitions go betrayed by faulty execution, this final product has enough juice in it to reward its audience, particularly those looking for quality style. While the intriguing inventiveness of the stage-like setting has of course diluted since it was first introducted in "Dogville", it remains fascinatingly unique and, at times, once again supplementary to the very isolated, somewhat claustrophobic setting and themes, while still going less overemphasized, in order to feel more organic. Part of the reason why the play-style is less noticable is because the environment is considerably darker than it was in "Dogville", which of course gives cinematographer Anthony Dod Mantle the opportunity to really brighten things up, and does so in a very colorful and handsome fashion that also reflects the film's themes of dim hope amidst dark times. Of course, once again, it's not just the people behind the construction of the film's style who give the product general effectiveness, but primarily the man behind the operation. Lars von Trier's writing remains faulty, with only so much room for substance to take breath from the film's often overemphasized messages, yet what substance bleed through finds itself charged by von Trier's once again inspired work of capturing the film's intial charm, before darkness and layers - such as they are - set in and go executed in an intriguing, tense and generally compelling fashion, giving the film as much of an organic feel as it can with such an uneven and unsubtle script, yet doesn't do so alone. While subtlety most certainly still stands to go augmented, the supporting characters within this film feel less like the devices the characters of "Dogville" were and more human in their limited layers, and each performer nails that as thoroughly as they can with messy character writing, which is actually pretty darn thorough, with each person delivering on haunting atmosphere, as well as distinctiveness and believability in their portrayal of people thrusted into a lifestyle they're not prepared for that will change them, for both the good and bad, but especially the bad. At the center of all of this chaos stands Bryce Dallas Howard, whose level of acting quality in comparison to Nicole Kidman is debatable, especially considering that this interpretation of Grace Mulligan feels surprisingly different than the one we saw in "Dogville", yet the lovely Miss Howard still embodies this Grace Mulligan also with sharp charisma, until she incorporates haunting depth and subltety, broken up by intense emotion into her performance at the darker moments she is to translate to the audience, being its avatar. Howard delivers on following in the footsteps of the great Nicole Kidman with an acting job that stands firmly as its own distinctive lead performance, yet one still riddled with the charisma, range and haunting, subtle depth that made Nicole Kidman such a film-carrying powerhouse in "Dogville" and makes Bryce Howard just as engrossing in this film. Overall, while this sequel remains rarely all that dull, it's still as slow as ever, with less oomph and more padding repetition within the storyline, which remains rather uneven on occasions, partially due to a degree of rushing, thus rendering the film decidedly inferior to its predecessor, yet it still stands strong, supported by more comfortably handled style, as well as periodically sobering, engrossing and all around compellingly inspired direction, while many a powerful, human and distinctive performance among the supporting cast further supplement resonance, which goes ultimately secured by a charismatic, emotional, hauntingly atmospheric and rather transformative lead performance by Bryce Dallas Howard, thus leaving "Manderlay" to stand as a fascinatingly provocative and, at times, thoroughly compelling second phase in Lars von Trier's celebration and deconstruction of American culture, as well as humanity itself. 3/5 - Good
Cameron Johnson
Super Reviewer
½
Lars Von Trier repeats his famous and tedious Dogville formula. nevertheless, an interesting and thought-provoking microcosm.
Pierluigi Puccini
Super Reviewer
½
The mid-point of Lars von Trier's 'American trilogy', Manderlay follows up Dogville in it's presentation of the hypocrisy of a fictional-but-it-most-certainly-could-be-real town in the good ol' US of A. Rather than another case of snide back-stabbing in such backwater towns, Manderlay takes us (and Grace) to a small village in which slavery is still going ahead. Grace is quick to point out the error of everyone's ways here, even arguing her father's gangsters have more humanity, and her trust and optimism later prove to be here downfall. The sets are once again less than minimal, mostly rooms are defined by chalk outlinesm with occiasonal 'real pieces', such as a donkey powering a well. Though still powerful cinema, by its very nature lacks the innovation of the first, and thus the impact. Other flaws occur, such as Grace's recasting as Bryce Dallas Howard. Not that she gives a bad performance; she simply doesn't look like Kidman, nor does she have her screen prescence. Another issue is her sudden precociousness (at nights she lusts for a local 'black buck'), which seems implausible after her sexual torment in Dogville. The third act is a belter, though, ably illustrating von Trier's true colours with some pitch-perfect, arguably por-slavery humanistic drama. Imperfect, but powerful.
Antony Stubbs
Super Reviewer
Manderlay Quotes
There are no approved quotes yet for this movie.