The Man Who Fell to Earth
(1976)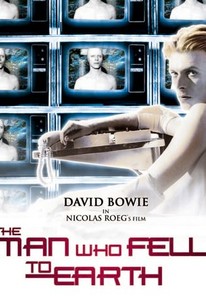 TOMATOMETER
AUDIENCE SCORE
Critic Consensus: Filled with stunning imagery, The Man Who Fell to Earth is a calm, meditative film that profoundly explores our culture's values and desires.
The Man Who Fell to Earth Photos
Movie Info
Space alien (Bowie) crash lands on Earth, seeking help for his drought-stricken planet. By securing patents to advanced technology, he becomes a fabulously wealthy industrialist. However, money and its attendant decadence ultimately exert a stronger gravitational pull. Bowie seemed perfectly cast as the space traveller, and the film further cemented director Roeg's status as one of the most unique filmmakers of the 1970's. Originally cut by 20 minutes in its 1976 US release, this anniversary presentation is the complete version.
News & Interviews for The Man Who Fell to Earth
Critic Reviews for The Man Who Fell to Earth
Audience Reviews for The Man Who Fell to Earth
½
An alien (David Bowie) comes to earth incognito with plans to earn billions of dollars, build a spaceship and export water to his barren home planet, but finds himself unprepared to deal with human temptations and corporate politics. This melancholy story is more than a little muddled, but it has flashes of satire and moments of style.
Sci Fi misfire that could have been much better, I really wanted to enjoy this film, but I felt that the film didn't go anywhere and ended up being more dull and boring than actually engaging. I found that the acting was very uninteresting and wooden and there were no standout performances with this film. This is a mediocre Sci Fi drama that may not appeal to every film fans and there's really nothing compelling non-screen that will pull you in to interest and entertain you from start to finish. The problem with this film is that it tries to be too ambitious in scope, and there's so much going on at the same that you lose track of the main aspect of the plot, which is scattered everywhere and really doesn't make sense in the long run. Kubrick's 2001 was far superior to this mess and better acted and better acted as well. Don't expect anything out of this film as it is pretty boring, and not really impressive. There are better Sci Fi films out there that have been released. I was very much let down by this film, and I expected much more out of this film, but as a whole it really didn't entertain me and the plot and acting were flawed and didn't stand out. Director Nicolas Roeg missed the mark with directing this film, and I didn't enjoy this one like other films in the genre. Overall this is a bland affair despite its interesting ideas and in the end there is no payoff that can truly entertain, a forgettable film that doesn't stand out among the countless Sci Fi greats.
Only for a cynical few, here is the opposite end of Spielberg's E.T, with a terrific (if unexpected) ensemble cast featuring Candy Clark, Rip Torn, Buck Henry and starring, in his first film (though he seems as if an old hand at the thing, so rich, nuanced), David Bowie. Don't let it pass you by.
Kevin M. Williams
Super Reviewer
The Man Who Fell to Earth Quotes
There are no approved quotes yet for this movie.