A Man Called Horse
(1970)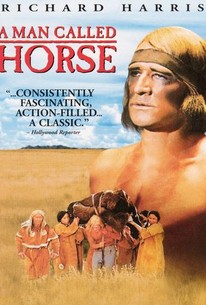 Movie Info
A Man Called Horse stars Richard Harris as Lord John Morgan, an English peer cast somewhat adrift in the American West. Captured by Sioux Indians, Lord Morgan is at first targeted for quick extinction, but the tribesmen sense that he is worthy of survival. The Englishman passes many of the necessary tests that will permit him to become a member of the tribe, the most grueling of which (and the one used most extensively in the film's advertising) is the Sun Vow Initiation. That's where his lordship is hung from the roof of a huge teepee with hooks through his pectoral muscles. Much of the dialogue is spoken in the Sioux language, though the film's much-vaunted "historical accuracy" is not altogether consistent, as witness the casting of British stage luminary Judith Anderson as Sioux woman Buffalo Cow Head. A Man Called Horse spawned warrant two sequels. Originally rated "GP" in 1970, it has since been re-rated R by the MPAA.
Critic Reviews for A Man Called Horse
All Critics (14) | Fresh (12) | Rotten (2) | DVD (4)
A test to see how much pain its hero and the audience can take before yelling Uncle.
It's all very socially aware and nature-friendly, and the tale is a worthwhile one indeed; too bad A Man Called Horse moves so slowly for much of its running time.
A Man Called Horse is a mesmerizing film about the experiences of a British aristocrat in 1825 struggling to survive in a Sioux tribe.
Audience Reviews for A Man Called Horse
The first half an hour of the film drags slightly but is worth sticking with. The story is hugely based on a white man being accepted into a Sioux Indian tribe during his capture. Im not sure what percentage of the cast were true Native American Indians, but no doubt a good percentage were not. Worthy watching just for the build up to one particular honour proving scene.
Lady D'arbanville
Super Reviewer
½
Poorly written and performed (except for Richard Harris) ethnographic western. The brutal "vow to the sun" ritual, Harris in the lead, and some (not all) religious symbolisms are good points, but no matter how good I think it turns at some points, the lack of depth is its fiercest enemy.
Pierluigi Puccini
Super Reviewer
½
An unusual western which admirably treats the American Indian with a certain amount of respect, but it shoots itself in the foot in terms of credibility by having a Greek, a Fijian, an Australian, etc, playing the Sioux. Though he's perfectly good in the role, Jean Gascon's character feels too much like a shallow device for helping Harris, and the viewer, understand the tribal customs. Fascinating, nevertheless.
A Man Called Horse Quotes
There are no approved quotes yet for this movie.