Malice in Wonderland
(2010)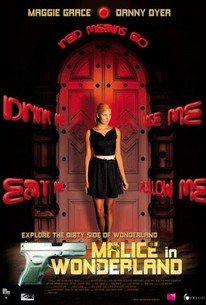 Malice in Wonderland Photos
Movie Info
American law student Alice (Maggie Grace) is studying in London when she's run down by a black cab and transported to a strange and shady underworld. With time-obsessed cabbie Whitey (Danny Dyer) to help her navigate this sordid new reality, Alice soon realizes that her only hope for getting back home is to fight her way through the pimps, gangsters, and violent drug dealers who are tracking her every move. Can Alice turn the tables on her pursuers long enough to make a clean getaway, or is she doomed to spend all eternity on the run from the tyrannical crime kingpin who controls the entire city? Malice in Wonderland presents a dark and twisted take on author Lewis Carroll's timeless children's tale. ~ Jason Buchanan, Rovi
Critic Reviews for Malice in Wonderland
Audience Reviews for Malice in Wonderland
½
A dark twist of a classic tale! Amnesiac Alice (Maggie Grace) runs down a London underpass and hooks up with Whitey (Danny Dyer), a cab driver who worries he's always late. Fleeing through a tilted, neon-lit cityscape, they encounter bizarre, dangerous characters. This urban spin on Lewis Carroll has clever reinterpretations (the Cheshire Cat is a mysterious DJ, and Tweedledum and Tweedledee are obnoxious club doormen), and guest turns from the likes of Nathaniel Parker combine Britpic gangland eccentricity with Adam West Batman villainy. Grace is a bit vapid as pill-popping, whiny Alice, and Dyer's twitchiness is overdone, but Malice is lively, inventive and has a unique look.
Dean McKenna
Super Reviewer
Intriging but trying a bit too hard to be clever..
Alice loses her memory and enters a psychedelic Wonderland of quirky lowlife London gangsters. The quirky gangsters have a definite Guy Ritchie feel to them, but the clever, wordplay laden script is the main star; check out the unexpected way Alice steals the tarts
Malice in Wonderland Quotes
There are no approved quotes yet for this movie.