Malevolent
(2018)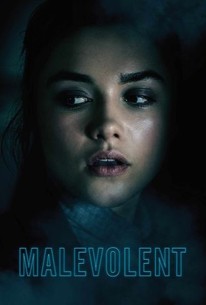 Movie Info
Brother and sister duo Angela (Florence Pugh) and Jackson (Ben Lloyd-Hughes) are nothing more than scam artists. Preying on the grief stricken and the vulnerable, they convince the bereaved that Angela has the ability to contact the dead. Their next sucker in waiting is Mrs Green (Celia Imrie), an old woman living alone in an abandoned orphanage, who wants them to silence the malevolent voices that keep her up at night. It's a simple con, and Mrs Green is clearly deluded, they have no reason to think otherwise. But the building has a dark history, a past so horrifying they begin to question too late if they are in over their heads. Years ago, the orphanage was stage to a string of murders, where young girls were forever silenced by a twisted killer. And Angela's on the brink - sleepless and vulnerable, no longer certain of what's actually real; convinced she genuinely sees and hears the girls calling out to her from the depths of the house. But a far more real and terrifying evil plagues the house, and these paranormal investigators will soon suffer the ultimate reality check.
News & Interviews for Malevolent
Critic Reviews for Malevolent
Audience Reviews for Malevolent
½
Malevolent did not capture my attention at all. Boring and old hat as they come, Malevolent might have been worth my money, (because I watched it on a Netflix account that I don't pay for, so that money was zero) but it was not worth my time, or yours.
So, as it has been noted before, I am not a superstitious man. In fact, one of my most 'popular' reviews on Letterboxd (it only received three likes, which is three more than I expected), for We Are Not Alone, starts out with this. I've just never been superstitious. I'm not prone to believe ghost stories. I mean they make for interesting and, sometimes, creepy tales, but I've always found that there's, more often than not, a logical explanation for what someone may be going through. I'm not saying that I'm right and everyone else who believes otherwise is wrong, I'm just saying what I believe, agree or disagree with it. Regardless, when it comes to these supernatural shows like Ghost Adventures, Ghost Hunters and others, I feel like there's a lot of trickery and manipulation involved in order to get the desired results. I'll be honest, I'm not exactly a devotee of these shows to begin with, but I have seen a few episodes here and there throughout the years and one of the things that always called my attention was how whenever these groups went to these places, they always seemed to find SOME sort of activity that would make their journey there worth it. This calls into question whether these people stage incidents or not. And, again, I haven't seen every episode of the Ghost Hunters and Ghost Adventures. In fact, between the two, there have been over 400 episodes produce and counting (for Ghost Adventures at least, since Hunters is already off the air). To say that I've seen, maybe, 10 of them might be too many. But it is still something worth pointing out. I watched a paranormal documentary by Zak Bagans (host and creator of Ghost Adventures) called Demon House that was the fakest thing I've ever seen. That's neither here nor there, I suppose. This brings us to this movie, where a supposed paranormal investigative team go to houses to rid the houses of the ghosts. But, of course, it's all fake. The team goes into the house, they set up the equipment and trick these people into believing that they're getting rid of the evil spirits that may be plaguing them. The team consists of Angela, her brother Jackson, Jackson's girlfriend Beth and Elliot (who has a crush on Angela). Angela and Jackson's mother, supposedly, had mental health issues that caused her to scratch her eyes out and commit suicide. The reason she did this was as a result of the visions she saw and the voices she heard. Angela is still haunted by her mother's death and, at her brother's behest, they moved back to Scotland in order to continue their scam. Look, this concept isn't exactly unique, where paranormal teams fake their evidence for their TV shows or whatever. There was this one I know I saw a couple of years ago, but I can't exactly remember its name. I don't know if Grave Encounters had some fakery involved, so I won't speculate on it. The thing is that this concept is not unique to this movie. What is unique to it is that the aforementioned movie, whose name I can't remember, told that story using a found footage style. This movie, set in 1986, uses a 'normal' storytelling style. So at the film's start, the team goes to this house to, obviously, stage their 'show' in order to rip this family off of their money. Angela, supposedly, is meant to have inherited her mother's gift, which allows her to see the spirits of the dead and communicate with them. This is all hogwash. However, Angela finds herself in some sort of attic with mannequins in them. One of the mannequins, in the middle, ends up resembling the person they just supposedly got rid of and she scares Angela. Angela, somehow, believes it to be part of the show, rigged to scare her. Blah, blah, blah, Angela wants out. Blah, blah, blah, Jackson convinces her to do one last job at this old lady's house, where three girls, her niece, were murdered at the hands of her son. Until this point, Angela starts seeing more and more visions of spirits. It gets worse when they make their way to this house as Angela's visions and the voices she hearts get more intense. Does it sound like I'm bored as I'm recounting these things? Because that's the feeling that I'm going for. Why is that the feeling I'm going for? Because, umm, this movie kind of legitimately bored the shit out of me. Again, this concept is not unique, but I still do like it regardless. But the fact of the matter is that the movie is just not that interesting to watch. It is a horror movie, but at times it feels like it isn't. And I don't know why that is, to be honest. The movie IS a horror movie, but the horror doesn't amount to much. It is every haunted house horror movie you've ever seen, except maybe a little less effective than the norm. I feel the reason this is the case is that they were centered on telling a stronger story befitting its characters. Here's the thing, though, I didn't like any of the characters either. The movie is meant to be about Angela, Jackson and their relationship with their mother and how her death has changed them, but there's no real connection between Angela and Jackson past the movie telling you that they're siblings. Jackson is a bit of a dick and Angela, while not a dick in any way, doesn't exactly elicit sympathy either. Florence Pugh is a good actress, I believe she has proven this already, but she's very distant in this role. And perhaps that's Angela's own personality but, because of that, you never really connect with her nor do you care that much for her. And, really, for a movie that's meant to be about this dynamic between Angela, Jackson and their mother, you could, at the very least, try to make me care. I don't have to like these people to get into whatever their arc may be. And I wasn't into. I didn't care about Jackson, I didn't care about Angela, I didn't care about Beth (Jackson's boyfriend) and I didn't care about Elliot, though he's the most likable character of the bunch. So that makes it utterly impossible to care what happens to them. And this isn't meant to be a torture porn either, where the characters are just there to get killed in gruesome ways. The film never comes close to that. They do attempt, within its limited context, to give these characters something to do, but it just doesn't work. It bears repeating, but there's no sort of connection between Jackson and Angela, therefore I was not interested in their bullshit. And when the horror and characters are lackluster, it's kind of difficult to enjoy what you're watching. The acting is solid enough from everyone and I'll never claim that they're the problem in this movie, it's just everything else around them that's dull and uninspired. The thing is that this is fairly competent and watchable horror movie, it just doesn't excel at anything, I'm sorry, but that's just the way it is. While I am giving this two stars, this might be the worst movie I've seen all month in this horror fest so far. It's not a terrible movie, in the slightest, it's just one that's very difficult to get into thanks to its unlikable characters and tedious horror. There's nothing that's gonna hold your attention for more than, say, 30 minutes. It will be very easy for most of you to zone out during this. That's what happened to me. I mean, my eyes were glued to the screen, but nothing was registering with me. I don't know what else to say. Watchable, I guess, but nothing you really need to waste your time with.
Jesse Ortega
Super Reviewer
Malevolent Quotes
There are no approved quotes yet for this movie.