Major Payne
(1994)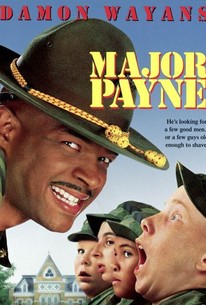 Movie Info
Hawk-like Marine Corps officer Benson Payne (Damon Wayans) attempts to whip into shape the usual assortment of misfit JROTC kids in this minor remake of The Private War of Major Benson. Of course, both the major and his pint-sized recruits have something to teach one another. Payne teaches them the value of self-discipline and instills self-confidence in them, and the recruits teach him to stop and smell the roses (not to mention the fact that kids sometimes need coddling rather than screaming). And, of course, there is the annual JROTC statewide competition, which the kids are obligated to win before the movie can end. While there are some funny moments (the major's exhibition in full-dress whites at a school dance, for example), the script seems too color-by-numbers to be interesting to anyone other than undiscriminating younger viewers.
Critic Reviews for Major Payne
Audience Reviews for Major Payne
½
Major Payne is a good comedy film about a trained Marine and one bad assed killing machine who's been discharged from the Military because his services are no longer needed. After trying to adjust to Civilian (unsuccessfully) he gets thrown back in the Military, only now as the head of a school's JROTC program. Damon Wayans delivers one funny performance as Major Benson Winnifred Payne. Wayan's performance is hysterical and he provides many laugh out loud moments. The film will never win any awards, but you can watch it with the feeling that you'll see something very funny and with Wayans brand of humour, you'll likely have a few laughs even if you don't like the film all that much.Major Payne is the type of film that you can watch with friends or family to have a good time. Damon Wayans performance is unique. Major Payne, the character is the stereotypical type of trained killer who lives only by the military norm. He's good at one thing and one thing only: killing on the battlefield, and when he trains the boys of the local school, he just tries to train them like normal military recruits, and it's funny how the character doesn't seem to understand that they're kids. He does, but he doesn't give them no pity (live normal military recruits). The kids training under Payne do everything to get him to quit, but to no avail. Every plan that they form backfires with hilarious results. I view this film as a misunderstood film, many viewers tend to not like it for all the wrong reasons. Major Payne is a good little comedy with plenty of laughs. The thing that it's got going for it too is that except for one kid in the film, all the kids playing the recruits under Payne, weren't annoying. If you want to watch something funny with Damon Wayans, then this is the film to watch.
½
Damon Wayans isn't a movie actor, but he puts in a good performance here. I keep watching these 90's kid comedies, but I really only want to find and watch Heavyweights.
Lenny Muggsy
Super Reviewer
Major Payne Quotes
There are no approved quotes yet for this movie.