Major League II
(1994)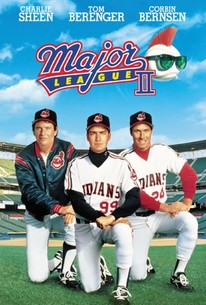 Movie Info
In this sequel to the 1989 comedy hit, the uninhibited ballplayers of the Cleveland Indians manage to rise to victory once again.
News & Interviews for Major League II
Critic Reviews for Major League II
Audience Reviews for Major League II
Sequel to Major League is a pretty good follow up to the original, but it's not as great as the first. Most of the original cast return with a few changes, most notably this replacement of Wesley Snipes. The film has some good gags, but it's hard to beat, considering that the first was terrific; however the filmmakers and cast manage to make this one amusing and entertaining. The film does manage to take elements of the first, and puts and the filmmakers put a somewhat interesting new twist to the story. I enjoyed this sequel, but I also felt that they could have put more effort into making a terrific sequel. Considering that this is a sequel to a comedy, Major League II is better than most sequels, as most fail to capture the fun of the original. Here we get an amusing, entertaining movie, and it is a funny film, but it's not as great as the original film either. This is worth seeing if you're a fan of the first film, and it manages to be a worthwhile film to watch. The film may reuse some ideas, but it's as bad as many other follow ups either. Major League uses a familiar formula, and it's a satisfying film even if it's not that original. Some of the jokes are good here, but like I said before they could have been better. For a sequel, this is a good attempt, and it was an interesting idea as well. With most of the cast returning to reprise their roles, it makes this one much better than you might think.
½
It continues the laughs from the first Major League film. The team has a new female owner. About the same as the first film. I liked seeing James Gammon as the crusty coach.
Lafe Fredbjornson
Super Reviewer
½
decent but a shadow of the first
Major League II Quotes
There are no approved quotes yet for this movie.