Madhouse
(1974)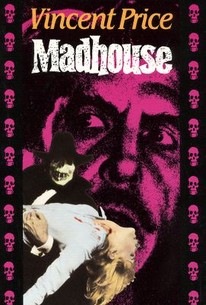 AUDIENCE SCORE
Critic Consensus: No consensus yet.
Movie Info
Paul's career as a horror-film star came to an abrupt halt after his fiancee was decapitated. His old friend Herbert is sponsoring him for a comeback in a TV series, playing his old role of "Dr. Death." Unfortunately for him, someone begins a real-life reenactment of Dr. Death's crimes.
Critic Reviews for Madhouse
Audience Reviews for Madhouse
½
Vincent Price plays a washed-up B-movie star who may have a problem getting out of character when his celebrated alter ego, Doctor Death, apparently commits a string of murders influenced by his own back catalogue. An enjoyable, undemanding though silly horror film whose appeal chiefly rests in the all-too-rare opportunity to see Price acting opposite Peter Cushing, rarer still as the latter has a habit here of disappearing for long stretches at a time, so much so that one can only assume that he was only available to the production for a couple of days. With a cast that includes not only Cushing but also Adrienne Corri and Linda Hayden, you'd be forgiven for thinking that Hammer had a hand in the film, but it's actually a co-production of American International Pictures and Amicus, Hammer's American equivalent and its main British rival at the time. There's a lot of recycling of AIP highlights from the Sixties, allowing for second-hand screen credits for Karloff and Rathbone, so it's perhaps not surprising that an excellent editor, Jim Clark, was chosen to direct. As far as I'm aware, this was Clark's last outing as a director, after which he returned to editing. His impressive credits in that capacity include The Innocents, Charade, Marathon Man, The Killing Fields, The Mission and Vera Drake.
And here we are again with another Vincent Price classic. I call it as such because the film is slightly autobigoraphical in nature, but disguised as a horror film (or even a giallo, if you ask me). Madhouse doesn't necessarily take place in its namesake, but it's more about Hollywood, the pressures of performing and the murder that tags along with all of that, so actually the title is somewhat appropriate. It's been highly publicized that this film is looked down on because it features both Vincent Price and Peter Cushing in lead roles, but they have hardly any screen time together. To me it's one of the film's strengths. If it had been that way, then it would have been a very different film altogether, and the focus as an audience would be strictly on that (as it was anyway, I guess). I like that the film focuses on its story and not the politics involved in the making of it. The story itself is quite good, save for a couple of cheesy moments, but it has an underlying theme of actors under pressure, which is something that I'm sure Vincent Price and Peter Cushing could relate to quite well. I found it to be smart and fun, and certainly different from other work from both Vincent Price and Peter Cushing, and that alone is worth the time to see it. Be sure to watch out for the use of footage from earlier Vincent Price films featuring Boris Karloff and Basil Rathbone.
Tim Salmons
Super Reviewer
A mildly effective but harmless vehicle for venerable horror icons Vincent Price, Peter Cushing, Basil Rathbone and Boris Karloff.
Randy Tippy
Super Reviewer
Madhouse Quotes
There are no approved quotes yet for this movie.