Madea's Big Happy Family
(2011)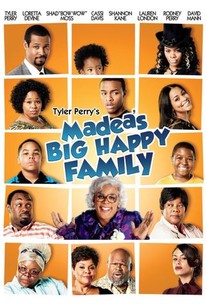 Madea's Big Happy Family Photos
Movie Info
Adapted from the multi-talented playwright/filmmaker's hit stage play of the same name, Tyler Perry's Madea's Big Happy Family finds the cantankerous family matriarch using her unique brand of tough love to help her family weather some particularly rough waters. Madea's niece Shirley has received a frightening medical diagnosis, and she's having a hard time figuring out how to break the news to the rest of the family. Unfortunately she's not the only one in the midst of a crisis, either: Kimberly is suffering from anger issues that are threatening to destroy her marriage; Tammy's marital problems are being compounded by her disobedient children; and Byron is struggling to stay out of the drug trade after spending two years behind bars. Later, as a skeleton in the family closet pops into the picture, Madea and Aunt Bam show that love and laugher can help to overcome even the biggest obstacles. ~ Jason Buchanan, Rovi
News & Interviews for Madea's Big Happy Family
Critic Reviews for Madea's Big Happy Family
Audience Reviews for Madea's Big Happy Family
½
Cast: Tyler Perry, Loretta Devine, Bow Wow, Cassi Davis, Shannon Kane, Lauren London, Rodney Perry, David Mann, Tamela Mann, Isaiah Mustafa Director: Tyler Perry Summary: As soon as she learns about her niece Shirley's health issues, super-grandma and problem-solver Madea takes over the situation one more time, summoning together her highly fragmented clan in this madcap dramatic comedy all about family values. My Thoughts: "Not the best to come from Tyler, but not the worse one either. I just think some of his story lines get recycled a lot. There is always someone being sexually abused in some form or way. I did enjoy some of the film though. I thought going on Maury was hilarious and showed a good example on how foolish some of those girls look. Medea is always funny and brings the wisdom and laughs. I just wish the films weren't so heavy all the time. I enjoyed Loretta Devine in this movie. I love her acting and think she's a great actress. She brings a lot of emotion to the table. I also thought Bow Wow did a great job in the movie. I would have liked to see more of his story played out. But in the end it was just OK for me. On to the next which I'm sure there will be another."
♥˩ƳИИ ƜѲѲƉƧ♥
Super Reviewer
½
Not the best Tyler Perry movie by any stretch, but it's not the worst either. It's kind of uneven with it's mix of comedy and drama(luckily, this isn't nearly as melodramatic as other Perry movies.) But overall, it's pretty entertaining. The story is about Shirley, a woman who's been battling cancer and her battle is coming to an end. She needs to tell her family, but her family is so broken apart that she can't get them all together to tell them. She gets the help of her Aunt Madea to get her family together, and things go from there. Madea is either annoying or hilarious depending on who you ask, well I find her hilarious. Perry is awesome and has some great one liners as Madea and Joe(his "help me" lines about the floor are awesome). The rest of the cast is good, and they do their jobs well as the "standard Tyler Perry" supporting cast. If you enjoy Perry's movies(and I do), then you will like this. If you don't like them, then you probably wouldn't want to watch this anyway.
Everett Johnson
Super Reviewer
½
Tyler Perry's Madea's Big Happy Family is a hilarious film, and i'm one of the few people who think the character of Madea is hilarious, but this movie is also just like all the past films juyst with different dramatic situations. The plot of the film makes you want to see how each dramatic stoy ends because they are all so f#cked up, just like every other Tyler Perry movie, and soon it gets kind of boring. The cast is half funny people, and half dramatic actors, now the funny people like Tyler Perry and David mann made me laugh, and all the other actors are sad, and although they played good roles, the old bad relationship acting gets really boring, just a bunch of crying people who are too big a wimps to do anything so madea has to step in. This movie was hilarious and l love the character of Madea, but this movie is also too dramatic and has too many problemns to consider itself a real movie, and overall its just another Tyler Perry film.
Jim Careter
Super Reviewer
Madea's Big Happy Family Quotes
There are no approved quotes yet for this movie.