Mad Max
(1979)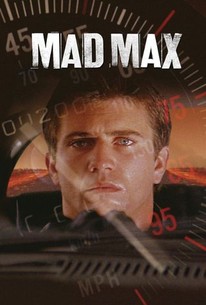 TOMATOMETER
AUDIENCE SCORE
Critic Consensus: Staging the improbable car stunts and crashes to perfection, director George Miller succeeds completely in bringing the violent, post-apocalyptic world of Mad Max to visceral life.
Movie Info
This stunning, post-apocalyptic action thriller from director George Miller stars Mel Gibson as Max Rockatansky, a policeman in the near future who is tired of his job. Since the apocalypse, the lengthy, desolate stretches of highway in the Australian outback have become bloodstained battlegrounds. Max has seen too many innocents and fellow officers murdered by the bomb's savage offspring, bestial marauding bikers for whom killing, rape, and looting is a way of life. He just wants to retire and spend time with his wife and son but lets his boss talk him into taking a peaceful vacation and he starts to reconsider. Then his world is shattered as a gang led by the evil Toecutter (Hugh Keays-Byrne) murders his family in retaliation for the death of one of its members. Dead inside, Max straps on his helmet and climbs into a souped-up V8 racing machine to seek his bloody revenge. Despite an obviously low budget and a plot reminiscent of many spaghetti Westerns, Mad Max is tremendously exciting, thanks to some of the most spectacular road stunts ever put on film. Cinematographer David Eggby and stunt coordinator Grant Page did some of their best work under Miller's direction and crafted a gritty, gripping thrill ride which spawned two sequels, numerous imitations, and made Mel Gibson an international star. One sequence, in which a man is chained to a car and must cut off a limb before the machine explodes is one of the most tense scenes of the decade. The American version dubbed all the voices -- including Gibson's -- in a particularly cartoonish manner. Trivia buffs should note that Max's car is a 1973 Ford Falcon GT Coupe with a 300 bhp 351C V8 engine, customized with the front end of a Ford Fairmont and other modifications. ~ Robert Firsching, Rovi
News & Interviews for Mad Max
Critic Reviews for Mad Max
Audience Reviews for Mad Max
½
A decent cult action movie full of great stunts and car crashes that make the best of a very low budget, even though the story takes a bit too long to speed up, making the entire beginning a little dragged and reaching its narrative core with only fifteen minutes left to end.
Carlos Magalhães
Super Reviewer
½
While not the greatest film, Mad Max deserves recognition for its excellently staged car chases, star making turn from Mel Gibson, and willingness to push the envelope in a time when many would not. It's violent, unrestrained, and pretty entertaining despite a minimal plot. Max's character is really the only one that gets a story arc and it makes you feel for him when all hell breaks loose. Toe Cutter is also a memorable villain thanks to a creepy performance by Hugh Keays-Byrne. This is basically just wall to wall action except for a middle section to build up Max's character to what he eventually becomes. This is a worthwhile watch for action fans.
Josh Lewis
Super Reviewer
Whole lotta dirt and rubber and bikes and bad accents and sawn-off shotguns and boy i bet the odor this movie made is unmatched.
Coxxie Mild Sauce
Super Reviewer
Mad Max Quotes
There are no approved quotes yet for this movie.