Macbeth
(2015)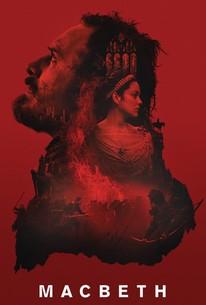 TOMATOMETER
AUDIENCE SCORE
Critic Consensus: Faithful to the source material without sacrificing its own cinematic flair, Justin Kurzel's Macbeth rises on the strength of a mesmerizing Michael Fassbender performance to join the upper echelon of big-screen Shakespeare adaptations.
Movie Info
Macbeth is the story of a fearless warrior and inspiring leader brought low by ambition and desire. A thrilling interpretation of the dramatic realities of the times and a reimagining of what wartime must have been like for one of literature's most famous and compelling characters, a story of all-consuming passion and ambition set in war torn Scotland.
News & Interviews for Macbeth
Critic Reviews for Macbeth
Audience Reviews for Macbeth
This MacBeth is a dark, medieval tale lacking any regal luster, making it all the more brutal. Very fine acting from Fassbender and Cotillard, but it lacks the epic feeling one might expect.
Christian C
Super Reviewer
½
Beautifully filmed and well acted adaptation of the classic play. Of course you could say someone is trying to lure in the Game of Thrones audience, and maybe they wouldn't be wrong. But despite of some great camera work, gorgeous landscapes and gritty sword fights, this is still Shakespeare and does not contain fast food lines. It's not a particularly fast moving film either, but its unsettling atmosphere of a lived in medieval Scotland makes up for that. All around well done.
It's a mighty task to boil the Bard's classics down to a tight yet meaningful running time and maintain a degree of cinematic quality. You don't just want to film a stage play with the mighty parameters of film, and yet giving in to the visual majesty means less time for Shakespeare's stirring words and complex characterization. Woe unto thee who attempt an adaptation. It requires more skill than thou would believe. I had hopes for the latest version of Macbeth from its top-shelf cast, Michael Fassbender as the titular ambitious murderer-turned king and Marion Cotillard as his wife and co-conspirator. It didn't take long for my hopes to be dashed. First, the good: the rolling hills of Scotland are lushly photographed, and the concluding battle is set amid a roaring hellish fire and flying embers that makes for a stunning backdrop. The actors are fairly fine. If you couldn't tell from this faint praise, there's not much to credit as an achievement with this Macbeth. It's strangely narcotized and often listless. It doesn't help that the actors speak 80% of their dialogue in whispers or mumbles, even when they discover the former king has been murdered. Director Justin Kurzel (the upcoming Assassin's Creed movie, also with Fassbender) falls back on monotony, whether it's an overabundance of mist, similar and low-rent locations, and a plodding score that feels like scorpions are in your mind. Some of the changes are also for the worse, especially making Lady Macbeth more "sympathetic" and neutering one of Shakespeare's great characters. She no longer sleepwalks and instead confesses her unshakable guilt to a cross. Also Macbeth is haunted by the ghost of his dead son with the witches. And there's some brief inclusion of awkward sex amidst monologues. The final showdown comes at the 90-minute mark and the entire proceedings feel rushed and yet miraculously boring. Even the bloody violence is pretty tame considering its R-rating. If you're looking for a truly cinematic Macbeth that enlivens Shakespeare, check out the Masterpiece Theater version with Patrick Stewart adapted into a 1930s Stalinist era. Now that was brilliant. Kurzel's version of the "Scottish play" is one that only signifies disappointment. Nate's Grade: C
Nate Zoebl
Super Reviewer
Macbeth Quotes
There are no approved quotes yet for this movie.