Mac
(1992)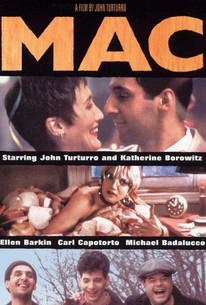 Movie Info
Actor John Turturro spent a dozen years getting his script for Mac before the cameras; he'd originally planned to merely act in the film, but the stringent budget required that he direct as well. Turturro plays Mac, one of three grown brothers in an Italian/American family living in 1950s New York. His other siblings are would-be "macho man" Vico (Michael Badalucco) and idealistic Bruno (Carl Capatoro). All three are unhappily employed at a construction firm run--badly--by Olek Krupa. Convinced he knows more about the business in his little finger than Krupa does in his whole carcass, Mac sets up his own construction company, wooing away most of Krupa's employees. On the verge of great success, Mac finds that his brothers are unwilling to commit themselves to his new business, a fact that causes an irreparable schism in their relationship. Co-starring in Mac as John Turturro's wife is the real-life Mrs. Turturro, Katherine Borowitz.
Audience Reviews for Mac
½
A blue-collar New Yorker forms a construction business with his brothers. John Turturro is a gifted actor, and in this film he shows himself a capable director. There are some flashy moments of meaningless close-ups, but most of his shots are framed well, and the actors all deliver strong performances. The story highlights the plights of the working class, and though my political sympathies rest with Turturro's, the film's plot becomes a muddle of cliches, and it's easy to figure where the film is heading before it gets there. Overall, Mac is not a horrible film, and working class people can identify with its characters, but ultimately the story isn't very strong.
Jim Hunter
Super Reviewer
½
I have an affection for this film, but there are still parts that bother me. The entire cast does a great job. Michael Baladucco gives an amazing performance and John Turturro is fantastic. The only character I hated and thought was completely useless was Ellen Barkin's character and even though I saw the idea behind it, I really could of done without her being in the movie. There are some genius scenes that I connected with on a lot of levels. The ideals behind the movie are ones that I thought were very interesting and there were some things I wish I could have seen more of. You can tell that Turturro took some great ideas from some directors that he had worked with, the only problem being that he has Spike Lee's taste for letting certain things play out too long. Again, really well acted and shot well, but the tacked on ending really kills me (although I liked the dialogue).
A nice little indie film.
Anthony Valletta
Super Reviewer
Mac Quotes
There are no approved quotes yet for this movie.