L'Ultimo squalo (The Last Shark) (Great White)
(1981)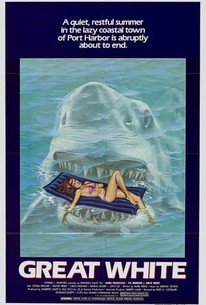 AUDIENCE SCORE
Critic Consensus: No consensus yet.
L'Ultimo squalo (The Last Shark) (Great White) Photos
Movie Info
A quaint little beach town is terrorized by a bloodthirsty great white shark in the infamous Italian Jaws rip-off The Last Shark. As usual, the powers that be turn a blind eye to it for tourist reasons, although eventually even they cannot escape the ocean of blood at their doorstep. Cue novelist Peter Benton (James Franciscus) and shark hunter Ron Hamer (Vic Morrow), who valiantly seek to kill the beast. Best known for the Universal Pictures lawsuit that found the film's North American theatrical release cut short and subsequent releases barred due to the blatant similarities to Steven Spielberg's blockbuster and its sequel, The Last Shark lives on in movie legend and Japanese laserdisc bootlegs for those who can find it.
Critic Reviews for L'Ultimo squalo (The Last Shark) (Great White)
There are no critic reviews yet for L'Ultimo squalo (The Last Shark) (Great White). Keep checking Rotten Tomatoes for updates!
Audience Reviews for L'Ultimo squalo (The Last Shark) (Great White)
½
Italian rip-off of Jaws is a decent flick with really nothing going for it. This is the type of film that can be seen as "So bad it's good". Italians are notorious with making cheap versions of American Blockbusters, and The Last Shark is one of many films that try to do that. As a whole, the film is really tongue in cheek and has so-so effects. Considering that the film is low budget, they're not that bad, but in many shot you can clearly see that the shark is fake, but it adds to the cheesy, good entertainment value that this film offers. I really liked the film, but it was just a decent picture overall and it was fun. If you take this film too seriously, you're surely not going to enjoy this, however keep an open mind about it and you may appreciate its sheer lack of originality. Don't expect anything great with this film, except for a mindless good time. I enjoyed the sheer stupidity of this flick and some genre fans will probably enjoy that as well. Enzo G Castellari's direction is good and he's able to create an effectively fun and entertaining rip-off that actually does provide some dumb fun. The Lost Shark is exactly what makes a cheesy horror film worth seeing. Despite its flaws, and it boasts more than its air share, it is a film to enjoy with friends. The special effects are so over the top bad, and pretty that you're just going to walk away from this one entertained and enjoying yourself. This is as good as B movies get, and as an Italian flick as well it succeeds on many levels despite its imperfections. A decent killer creature flick that you cannot take seriously.
½
Stupid yet somehow enjoyable mess that rips off not only Jaws but it's sequel too! Universal Pictures banned the film from being released in US theaters for being such a blatent pilferage but if they were smart or at least had a sense of humor they should have let it go since all it really does is make the Spielberg film look even better. Shark enthusiasts will find alot to laugh at also as the Great White's stand-ins are stock footage of everything froma a Mako to a White Tip shark to even a shot of a bottle-nosed dolphin.
A.D. Villarreal
Super Reviewer
½
Jaws rip off that frequently cuts away to stock footage of sharks, and uses the same fake shark head over and over in other shots. Unintentionally hilarious, I'm not so sure why Universal remains so adamant about it not being released in the states. It's impossible to take seriously. This film is a must-see for anyone who has ever wanted to see a shark go up against a helicopter.
L'Ultimo squalo (The Last Shark) (Great White) Quotes
There are no approved quotes yet for this movie.