Lucky Luke
(2009)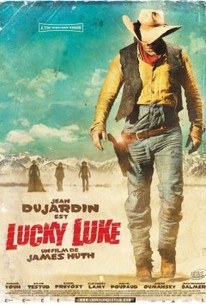 AUDIENCE SCORE
Critic Consensus: No consensus yet.
Movie Info
James Huth helms this live-action adaptation of the long-running Belgian comic book series -- first published in the 1940s -- that is equal parts homage to and a parody of the American Wild West. French comedian Jean Dujardin stars as the titular gunslinger, a rootin' tootin' cowboy who brings law and order to Daisy Town with the help of his loyal talking horse, Jolly Jumper. Along the way, Lucky Luke encounters various historical figures, each portrayed by a virtual who's who of contemporary French actors: Jesse James (Melvil Poupaud), Calamity Jane (Sylvie Testud), Belle Starr (Alexandra Lamy), and Billy the Kid (Michael Youn). ~ Sandra Bencic, Rovi
Critic Reviews for Lucky Luke
There are no critic reviews yet for Lucky Luke. Keep checking Rotten Tomatoes for updates!
Audience Reviews for Lucky Luke
½
Jean Dujardin is one of the finest French actors that I've seen. In Lucky Luke, the latest film adaptation of the classic comic series, he plays the fearless gunslinger effectively well and gives the characters some charm, which made him so likeable. Some fans may feel that this is a poor attempt at adapting the books to the screen, but I feel that this is a far better take on the comics than the Asterix live action features that they've released a decade ago. This is a well acted film that has some effective comedic moments and the cast aside from DuJardin are well chosen in their parts. An actor that also stood out for me was Michael Youn in the role of Billy the Kid. Along with Dujardin, he really shined in his performance, and was perfect for the role of Billy the Kid. Young played the character so well, that he stole the show for the most part. The film boasts a good plot, but one that could have been slightly better as well. The performances make the film work as well as the look of the film. Both make this a delight for fans of the books, and I thoroughly enjoyed it although it could have been improved upon. There is still enough material from the book to really get into it, if you're a fan of the comics, and the movie is funny and at times dark in terms of certain scenes. I think that this is one of the best adaptations of a French comic book and it is a slightly better film than Terrence Hill's Lucky Luke version. Even with that said- both are worth watching, and are quite entertaining from start to finish. Check this 2009 version out as it is far better than the live action Asterix films, which were disappointing and looked more silly than amusing. At least this film has the heart and look of the comics with the humor you'd expect.
Lucky Luke is a great character, mostly because he has an awesome name. Woop woop! Despite my bias the comics are fun and funny and usually send up Westerns in amusing ways. This film is rather confusing in its tone. It is still a bit bizarre and cartoonish, with talking horses, people hiding in barrels, and Luke's ability to never miss. But then some of the thematic elements are insanely dark. It starts with the murder of Luke's parents, and at one point he considers suicide after making his first kill, something he swore he would never do. The humour can also be peculiar, such as Luke slapping a woman in the face as it's part of his tradition. That was actually the bigest laugh because it took me completely off guard. The film also has poor pacing, as there isn't one strong plot, but about 5 weak ones. It seems like a TV show edited down into a feature length film, with each segment having a clear beginning and end. Dujardin is great in the role, and gives us a likable cartoon hero that also has depth. The film looks amazing, with sweeping landscapes, brilliant costumes, and some inventive transitions and editing. I didn't laugh as much as I should, but I still enjoyed it, even if just because it had a unique tone.
Luke Baldock
Super Reviewer
½
For a comedic western, Lucky Luke is a mixed bag. Sorry James Huth, maybe next time.
Although the main plot is on the light side, the subplots and back stories help to fill the 95 minutes of uncomplicated humor and silly characters. The atmosphere completely lacks seriousness and that is one of the positives, especially when everyone in America happens to speak french. That's just the way of Lucky Luke.
Visually, this picture is amusing with colorful sets and costumes, but one of the biggest disappointments is the shortfall of laughs in a huge bucket of comedic elements. The action and shootings are eccentric, fast-paced, and it blends right in with the film's style. On the other hand, there is nothing exceptional about it.
The acting is as it should be. Jean Dujardin is an acceptable protagonist and most of the supporting cast add character to the film. Michael Youn as Billy the Kid is notable.
Ultimately, Lucky Luke is definitely not as funny as it tries to be. Watch it and move on.
Lucky Luke Quotes
There are no approved quotes yet for this movie.