Lucas
(1986)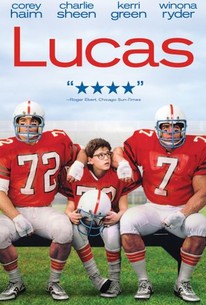 Movie Info
Corey Haim plays 13-year-old Lucas, a bespectacled, bookish type who attracts school bullies like a magnet. Lucas befriends 16-year-old Maggie (Kerri Green); she wants to be "just friends," while he'd like a more meaningful relationship. The boy introduces the girl to a world of intellectual pursuits of which she'd been previously unaware. She enjoys the attention, but is physically attracted to football jock Cappie Roew (Charlie Sheen), and becomes a cheerleader to be nearer to the young athlete. Lucas feels shut out once more, but is comforted to learn that Cappie is not just one more bully but a sensitive kid who sticks up for Lucas when the younger boy is being picked on. Still hoping to impress Maggie, Lucas tries out for the football team himself, threatening legal action when the coach tries to turn him down. This innovative teen-oriented film threatens to come to a hackneyed "big touchdown" climax, but instead goes for a more original finale.
Audience Reviews for Lucas
½
Lucas is cute for maybe two seconds and then you sort of want to through a rock at his nerdy head. I think it's funny that Charlie Sheen is supposed to be this Hottie Mchotterson and Wino is this geeky tomboy. Total role reversal. And Jeremy Piven! Whoa, time warp.
Jennifer Xu
Super Reviewer
This romantic teen comedy is charming and heartfelt, I really like it. Plus, it has a great cast. I highly recommend it.
Wow, can't believe this movie wasn't a big hit back in the day. But then again THE kind of movie I'm the biggest fool for are coming of age films, so perhaps I like them better than most do. I thought this movie was excellent. I'd heard of it but actually didn't have it planned to watch it tonight, but it caught my eye and I was glued. Definitely watch it if you haven't ever seen it and you enjoy coming of age films!
Jason Owens
Super Reviewer
Lucas Quotes
There are no approved quotes yet for this movie.