Loving
(2016)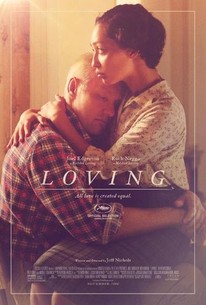 TOMATOMETER
AUDIENCE SCORE
Critic Consensus: Loving takes an understated approach to telling a painful -- and still relevant -- real-life tale, with sensitive performances breathing additional life into a superlative historical drama.
Movie Info
From acclaimed writer/director Jeff Nichols, Loving celebrates the real-life courage and commitment of an interracial couple, Richard and Mildred Loving (portrayed by Joel Edgerton and Ruth Negga), who married and then spent the next nine years fighting for the right to live as a family in their hometown. Their civil rights case, Loving v. Virginia, went all the way to the Supreme Court, which in 1967 reaffirmed the very foundation of the right to marry - and their love story has become an inspiration to couples ever since.
News & Interviews for Loving
Critic Reviews for Loving
Audience Reviews for Loving
I find it remarkable how Nichols uses a sober, unsentimental approach (with a very nice attention to details) to tell this real-life story and move us because of the sheer strength of what he wants to say, benefiting mostly from two excellent central performances.
Carlos Magalhães
Super Reviewer
Nicely acted and directed, "Loving" tells the story of one of the biggest civil rights cases in U.S. history -- with hardly any reference to the courtroom story itself. "Loving" is about the people involved, the injustice they faced, and their often quiet determination to stand up for the ones they love. What it may lack in drama it makes up for in heart.
Christian C
Super Reviewer
With a true story as sensitive as this, it was imperative that the filmmakers took care in choosing the right aspects to showcase, as well as do an impeccable job in casting. After viewing Loving, I can say from the bottom of my heart that this was a story that needed to be told on the big screen. Going into this film, you will probably be able to guess the outcome and where the film will choose to conclude its story, but that is not an issue here. Normally, a true story is released and leaves me wishing I had seen more while the credits were rolling, but Loving spends just enough time with its core storyline that it becomes a simple, yet moving tale. Some people are calling this one of the best films of the year. While I don't believe it will rank among my favourites, I will surely remember it. Our world will always have its issues. From war, to robbers, to cheaters, life is filled with evil. One thing that has almost become non-existent is the right against being able to marry someone of another race. Back into 1960s, interracial marriage was frowned upon throughout many states, Virginia being one of them. Following Richard and Mildred Loving as they become happily married, forced out of their state to raise their family for the next 25 years, and try to find ways of lessening their sentence, Loving is a moving and memorable piece of filmmaking. Simple and to the point, it does not take an excessive amount of time to get to the point, but rather gives itself a slow-pace in order to let the emotions sink in. From Take Shelter to Midnight Special, director Jeff Nichols has been known for his beautiful direction and ways of putting his vision on screen. Most of his films have a very drab look to them, fitting very well with the stories at hand, and Loving is no exception to that notion. Shot in a much more simplified manor than some of his previous work, I believe that was necessary for this particular story. Throughout each and every scenes, everything that needs to be focussed on or in frame, is. Loving is a very well-shot and well-directed film all around. If this film does not receive a ton of buzz come Oscar season, I still recommend checking it out. It is a very well-made picture. Everything about Loving comes off as subtle. In the end, there really aren't any complaints I have with the film itself, other than being incredibly slow. Joel Edgerton and Ruth Negga are wonderfully cast here and their chemistry is some of the most believable I have seen all year. There is nothing magnificent about this screenplay, which is precisely why I loved the writing so much. There is very little dialogue unless it is completely necessary, and when there is an excessive amount of dialogue, it feels totally natural as it flows out of each characters mouth. For all of these reasons, I found this film very easy and relaxing to watch, ending in tears, due to the effectiveness from the cast. In the end, Loving is a wonderfully crafted film by director Jeff Nichols. That being said, it is a very, very slow moving film that some audiences may become bored by. For myself, the pacing fit the tone and story very well. There is not much to the story, unless you include the subtext in the final frame, explaining the rest of the events. That being said, it makes it a much more cohesive story with not too many chances of making a mistake. It shows a very little glimpse into the way that this family dealt with this horrible fate and as a film, is beautiful to gander at. I felt soothed and relaxed throughout this film, as the calming pace really makes for an enjoyable viewing experience. Again, this pacing will not be for everyone, but Loving is an undeniably well-made film. Highly recommended to those who are curious about this subject matter.
Loving Quotes
There are no approved quotes yet for this movie.