Love with the Proper Stranger
(1963)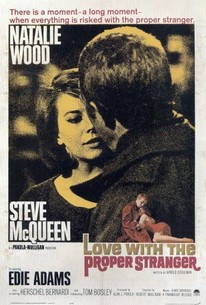 Love with the Proper Stranger Photos
Movie Info
Taken for granted by her Italian family, New Yorker Natalie Wood seeks solace in the arms of irresponsible jazz musician Steve McQueen. She becomes pregnant, but doesn't expect McQueen to marry her; all she wants is enough money to pay for an illegal abortion (this is ten years before Roe v. Wade). Not surprisingly, McQueen is refused a loan by his girl friend Edie Adams; meanwhile, Wood is being pressured by her family to marry gormless Tom Bosley. As the abortion appointment approaches, McQueen begins to feel guilty, but still won't propose. Bosley finds out that Wood is pregnant, and is willing to make an honest woman of her. Wood finally makes up her mind what she's going to do and whom she's going to choose when she walks into the seedy abortion clinic. Though very dated, Love With the Proper Stranger is still dramatically viable, thanks to the on-screen rapport between Natalie Wood and Steve McQueen, and to the large and talented New York-based supporting cast.
Critic Reviews for Love with the Proper Stranger
Audience Reviews for Love with the Proper Stranger
½
What on the surface may be construed as a typical 1960's romantic comedy is a great film with real weight. First off, as Natalie Wood's character has to stand up to her annoying brothers, who are over-protective and try to coerce her into a relationship with a nice guy played by Tom Bosley of all people (Mr. Cunningham from 'Happy Days'), it has a strong feminist message. Secondly, the film asks questions about the biggest things in life - is there such a thing as romantic love, or does lust obscure everything? And should one just settle in marriage, because, as a minor character so wisely puts it at a dinner party, "love is really an art, and like every other art, it demands practice and patience, consistent dedication and hard work." Lastly, and this is the biggest thing, the film shows what it meant to try to get an abortion before it was legal. You see, very early on in the film, Natalie Wood has told Steve McQueen that she's pregnant as a result of their one-night stand. That leads up to an extended sequence trying to get an abortion in an abandoned apartment which is horrifying, not because they "show" anything, but because it is so gritty and real, and filled with psychological pain. So here it is that you have this film with a beautiful couple with great chemistry, Natalie Wood and Steve McQueen, and you're in an emotional drama, and yet, it's one that has a sense of lightness about it, because of the strong performances they turn in, both of them delicately finding this balance. You have to love Wood's character at so many turns, as she consistently strives to find her own path in life, and her own voice. What an amazing film this is for 1963, and how timely it was seeing it in January, 2016, ominously showing what getting an abortion would be like in America if Roe v. Wade was overturned, and we went backwards during the Trump regime.
Antonius Block
Super Reviewer
Now this is a good bit of acting. The addressing of the abortion issue is very telling for its era. It is likely that this type of drama paved the way for film makers to take more chances and emerge from the rather grey 50s. Natalie Wood and McQueen are very solid.
John Ballantine
Super Reviewer
Love with the Proper Stranger Quotes
There are no approved quotes yet for this movie.