Love Wedding Marriage
(2011)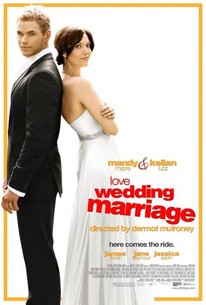 Love Wedding Marriage Photos
Movie Info
Mandy Moore is a marriage counselor whose life as a newly wed married to Kellan Lutz (Twilight) is turned upside down when she discovers her parents' happy marriage is unexpectedly headed for divorce. Determined to reconcile her parents for their 30th anniversary surprise party she stops at nothing plunging from one compromising situation to another. Will she destroy her own marriage and her professional life in her attempt to get her parents back together? Romantic Comedy veteran Dermot Mulroney directs. -- (C) IFC
News & Interviews for Love Wedding Marriage
Critic Reviews for Love Wedding Marriage
Audience Reviews for Love Wedding Marriage
I keep wanting to mistakenly refer to this movie as Love, Marriage, Divorce since that seems like a more prevailing plot element in this abysmal rom-com. Mandy Moore plays a couples counselor who's a newlywed herself, having just gotten hitched with Charlie (the Twilight Saga's Kellan Lutz). Her life is great, that is, until she learns her parents (James Brolin, Jane Seymour) are splitting up. Their pain will soon be felt by every person watching this wretched movie. Incompetently directed by actor Dermot Mulroney (My Best Friend's Wedding), the movie's tone approaches something like spastic cartoon. Mulroney frames everything in uncomfortable close-ups, which magnifies the exaggerated gyrations and facial expressions of his cast. It looks like every person onscreen is suffering a stroke at one point. The acting is so shockingly terrible. It's like the actors have been replaced with the amateur dinner theater versions of themselves. Moore's character is too shrewish and self-involved to be compelling, and Lutz, whose name rhymes with putz, is so wooden you'd swear they carved him out of a chunk of balsa right before cameras rolled. The sitcom plot suffers from every cliché imaginable in the rom-com genre. This is the worst case of bad drunk acting since 2006's The Black Dahlia, where actors over-do just about every action. The funny part is that it's only a slight difference from the ay the characters are behaving sober. Criminally unfunny, I have only one theory how Mulroney was able to get this movie made because clearly the screenplay wasn't reeling investors in. In the end credits are many producers and executive producers, several of them with Slavic surnames. There's also a Slavic model with in a key role. Mulroney turned to the only people who would finance Love, Wedding, Marriage - the Russian mafia. If you see Mulroney in a wheelchair from an "accident" in the near future, you heard it here first. Nate's Grade: D-
Nate Zoebl
Super Reviewer
½
Oh dear. Now, I know Mandy Moore can do better than this! Seriously, I nearly switched it off ten minutes in. Poor acting, dull story.Kind of picked up enough to keep me watching, but was a fairly flat experience. Didn't get to the end and think, wow glad I watched it. I can see how this one went straight to DVD without being heard of. If you like silly chick flicks, you might want to check it out. Otherwise, I would recommend the far better "Because I said so" or even "A walk to remember" if you want to see Mandy in a good movie. I guess on the plus, she and Kellan Lutz make a nice pair here, and there's a small part by Alyson Hannigan as one of the couples who attend her marriage counselling. Alyson is always funny, but yeah, not enough to recommend the whole movie based on that. I guess kind of has a nice message about making a marriage work (I am trying to be positive here!).
Nicki Marie
Super Reviewer
½
Cast:Alyson Hannigan, Mandy Moore, Christopher Lloyd, Kellan Lutz, Jessica Szohr, Jane Seymour, Alexis Denisof, James Brolin, Michael Weston, Sarah Lieving Director: Dermot Mulroney Summary: When a newly wedded marriage counselor learns that her seemingly happy parents are serious candidates for divorce, she throws all the rules out the window to repair their fractured relationship. My Thoughts: "The story was bland with mediocre acting. But the acting can't be blamed considering the script is to be blamed. I've seen better acting from these actor's. I actually liked Kellan Lutz, Jessica Szohr and Christopher Lloyd in the movie. Mandy Moore plays an very unlikeable annoying character. I couldn't stand the ending. It was predictable as most rom-coms are, but it was just how cheesy it was. Not something I would watch again but nothing I regret watching. So it's worth seeing once."
♥˩ƳИИ ƜѲѲƉƧ♥
Super Reviewer
Love Wedding Marriage Quotes
There are no approved quotes yet for this movie.