Love Is All You Need
(2013)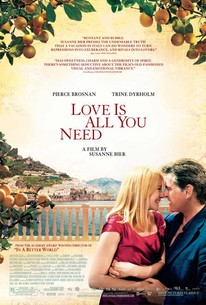 TOMATOMETER
AUDIENCE SCORE
Critic Consensus: Undeniably slight and fluffy, Love Is All You Need is redeemed by its picturesque setting and warm performances by Pierce Brosnan and Trine Dyrholm.
Love Is All You Need Photos
Movie Info
LOVE IS ALL YOU NEED is directed by Golden Globe (R) and Oscar (R) winning filmmaker Susanne Bier, written by Bier and Anders Thomas Jensen and starring Pierce Brosnan and Trine Dyrholm. Philip (Brosnan), an Englishman living in Denmark, is a lonely, middle-aged widower and estranged single father. Ida (Dyrholm) is a Danish hairdresser, recuperating from a long bout of illness, who's just been left by her husband for a younger woman, Thilde. The fates of these two bruised souls are about to intertwine, as they embark for a trip to Italy to attend the wedding of Patrick and Astrid, Philip's son and Ida's daughter. With warmth, affection and confidence, Susanne Bier has shaken a cocktail of love, loss, absurdity, humor, and delicately drawn characters that will leave only the hardest heart untouched. It is a film about the simple yet profound pains and joys of moving on - and forward - with your life. (c) Sony Classics
News & Interviews for Love Is All You Need
Critic Reviews for Love Is All You Need
Audience Reviews for Love Is All You Need
½
In "Love Is All You Need," Ida(Trine Dyrholm) is in remission from breast cancer, choosing not to have reconstruction surgery because her husband Leif(Kim Bodnia) would not care. Which is ironic, considering she catches him having sex with Thilde from Accounting(Christiane Schaumburg-Muller). That complicates the wedding of their daughter Astrid(Molly Blixt Egelind) in Italy that is rapidly approaching. All of which might excuse Ida accidentally backing her car into the one belonging to Philip(Pierce Brosnan) who is also the father of Patrick(Sebastian Jessen) who is getting married to Astrid. "Love Is All You Need" starts spectacularly tone deaf, and spends the rest of its time fruitlessly trying to find one consistent tone in two different countries. That is, as subplots have the movie going in every direction at once while getting nowhere quickly. And then there is Pierce Brosnan whose first, second and third instincts are to Cary Grant his way out of every situation while in this case playing a man who is supposedly dead inside. At least, the Italian scenery is very nice to look at, even while the human characters threaten to ruin the view at every turn.
Pierce Brosnan in a Danish film. How about them apples! Anyway, this was a decent movie. A little sappy. A lot predictable. The plot was kind of nutty. Really nothing earth shattering here.
Cynthia S.
Super Reviewer
½
Hairdresser Ida (Dyrholm) sports a blond wig, concealing the fact she has just come through chemo treatment for breast cancer, yet still awaits final results. She returns home to find her husband, Leif (Bodnia), cheating on her with a younger woman from his office. The couple's daughter, Astrid (Egelind), is about to be married in Italy, so they decide to travel there separately. At the airport, Ida crashes her car into that of Philip (Brosnan), a grumpy and misanthropic fruit magnate whose outlook is as bitter as the lemons he trades in. Philip just happens to be the father of the young man Ida's daughter is marrying. Reluctantly, Philip and Ida travel to Italy together. Once there, an unlikely romance blossoms between the two. Scandinavian cinema, and its TV, has become synonymous with gritty crime dramas in recent years. The romantic comedy isn't the first genre you associate with the region, particularly Denmark, the home of such controversy courting directors as Lars Von Trier, Nicholas Winding Refn and Thomas Vinterberg. Indeed, Susanne Bier, the director of 'Love Is All You Need', is herself known for much heavier fare. The theme of coping with death runs through her work and is again present here, with Brosnan playing a man who becomes angry at the world following his wife's senseless death in a car accident. That's not to say this is a heavy movie, far from it, but it does contain a level of substance absent from the romantic comedies Hollywood churns out. For a start, our two leads are actually likable and worth rooting for. Dyrholm feels like an everyday middle-aged woman who's been dropped into a rom-com scenario. Brosnan's character is more of a movie archetype but he manages to make the role seem fresh. The Irishman is a very under-rated actor, possibly because he doesn't take himself too seriously, but he possesses a range he rarely receives credit for. In the over-looked 2006 western, 'Seraphim Falls' he delivered a stunning dramatic performance and here he shows just how good his comic timing is. Apart from a disappointingly predictable ending, 'LIAYN' is a charming rom-com aimed at middle-aged viewers but accessible to all but those too ignorant to read subtitles.
The Movie Waffler
Super Reviewer
Love Is All You Need Quotes
There are no approved quotes yet for this movie.